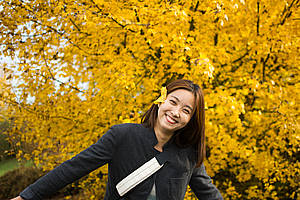 Name: Sojeong Myung
Home Country and City: Incheon/Seoul, Korea
Field of study: German studies
Favorite German word: Danke
Three words to summarise your time in Würzburg: Beer, Danke (thank you), Stars
1) Since when are you in Würzburg and how long will you probably stay here?
I am here since February 2014 and I will stay a year until the middle of February 2015
2) What do you like most about studying in Würzburg?
Beside the courses exist many additional lessons as tutorials or exercises. This helps me to understand the German classes better.
3) Are there any differences between your study in Würzburg and in your home?
There are big differences, especially when you singing up fort he classes. In my country, it takes only 5 to 10 minutes and most of the courses are full. First come first serve. But here students can subscribe for courses for a week and you can participate almost always, no matter when you sign up.
4) What are you doing in your lesure time?
I often do sports such a jogging or playing badminton. In addition, I visit various offers at the sports center. This is very convenient for students. From time to time I cook with friends and get to know new friends.
5) How do you like Würzburg and what especially do you like in Würzburg?
Of course I like it here very much. The city of Wuerzburg iss mall but quiet and nice. I enjoy nature and sometimes at night you can see the stars shining in the sky!
6) Do you have a favorite German dish?
I like Schnitzel and Currywurst!! Schnitzel tastes like the Korean dish "Donka" but Schnitzel is much thinner. I like that very well. Currywurst was my first meal in Germany, I like it the best.
7) What do you find as the biggest cultural difference from your home and Germany? Did you have a cultural shock?
Yes in a restaurant in Germany I had a negative experience. I ordered Pizza and it took only 15 minutes to eat it, but I had to wait 45 minutes until I could pay. In Germany you have to wait and again wait for a food to order and pay. In my country it if totally different. When you're done, you press a button or simply signal the waiter. The faster it goes the better it is.
8) Is there a funny anecdote / story you rexperienced during your stay in a foreign country?
I don't know if it is funny but for me it was very embarrassing. In early September I was on my way to the class and was waiting at a traffic light. My lesson would begin in 5 minutes and I wanted to cross the street but I couldn't. The signal has never changed ant the traffic lights always remained red. 2 minutes…4 minutes…I was alone and it was embarrassing. A man came to me and said that I have to push the button. I stood there the whole time and didn't know that I have to press the button to change the traffic lights….I've waited for such a long time and arrived late at class.
9) Did you also travel to other countries and cities during your study stay in Würzburg? Where?
Yes of course I traveled a lot! While studying in Germany I went to France, England, Austria and Switzerland. Those were very nice experiences which I will never forget.
10) What three tips would you give to the following exchange students?
First of all, be very active! I think this is important. There are many questions and challenges but the more active you are, the more you can learn from.
Also you should be very careful on body weight. I increased considerably and it came very suddenly.
Please don't learn all the time, visit also other events such as visiting festivals or attend to parties to meet people.<xml></xml>