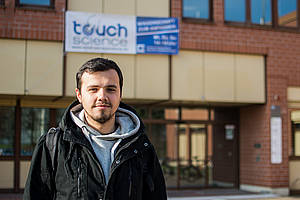 Name: Dardan Zyhranaj
Home Country and City: Kosovo, Pristina
Field of study: Political science
Favorite German word: genau
Three words to summarise your time in Würzburg: quiet, beautiful, interessting
1) Since when are you in Würzburg and how long will you probably stay here?
I'm here since three Months and I'm going to stay three or four more years.
2) What do you like most about studying in Würzburg?
The city and the university are very nice.
3) Are there any differences between your study in Würzburg and in your home?
Of course there are many.
4) What are you doing in your lesure time?
I do a lot of things such as strolling, reading, watching documentations etc.
5) How do you like Würzburg and what especially do you like in Würzburg?
The city is not that big and very quiet. I like the numerous churches and their history.
6) Do you have a favorite German dish?
Potato salad, because it is very delicious!
7) What do you find as the biggest cultural difference from your home and Germany? Did you have a cultural shock?
There are many differences but there was no cultural shock because I already got to know the German culture during my childhood.
8) Did you also travel to other countries and cities during your study stay in Würzburg? Where?
Until now I did no undertake any travels but I will do.
9) What three tips would you give to the following exchange students?
Enjoy the time here in Würzburg!!!