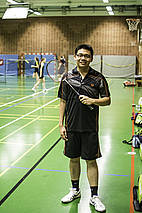 Name: Agus Lim
Home Country and City: Jakarta, Indonesia
Field of study: Medicine
Favorite German word: Salzstange and Spätzle (on Swabian accent)
Three words to summarise your time in Würzburg: monotone, practical, very quiet
1) Since when are you in Würzburg and how long will you probably stay here?
Since 2010, I remain approximately 2,5 years in Würzburg
2) What do you like most about studying in Würzburg?
It is for free, you don't have exams during semester break (in medicine), short semester durations and long vacations.
3) Are ther any differences between your study in Würzburg and in your home?
Yes, there are differences. In my country you have to pay 500 to 1.000 Euros per semester, depending what you study. The lectures in Indonesia are compulsory but the tests are not as difficult as here.
4) What are you doing in your lesure time?

I do a lot of sports, go on trips, go to the movies and cooking.
5) How do you like Würzburg and what especially do you like in Würzburg?
Würzburg is a bit to small for me because I come from a big city. What I like the most here is the old Main Bridge and the residence.
6) Do you have a favorite German dish?
Yes, Schnitzel, because it is very delicious.
7) What do you find as the biggest cultural difference from your home and Germany? Did you have a cultural shock?
Germany: it is very neat, it observe the rules very firmly, Sundays are very quiet, people are honest and wise but also monotonic, partially closed and sometimes very individual. In addition you are allowed to say or think whatever you want.
Indonesia: very messy and rather dirty, they rarely stick to the rules, the shops are open on Sundays. The people are very cooperative, friendly and open, they work a lot together and are more relaxed (sometimes to relaxed)
8) Did you also travel to other countries and cities during your study stay in Würzburg? Where?
Within Germany: Hamburg, Hannover, Göttingen, Kassel, Frankfurt, Nuremberg, Munich, Berlin, Stuttgart, Allgaeu, Cologne and Dusseldorf.
Outside of Germany: Italy
9) What three tips would you give to the following exchange students?
1) be punctual and always adhere to the rules
2) use your lesure time for trips
3) be prepared for the cold (in winter)