Adolf Eugen Fick, Physician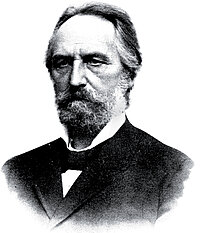 * September 3, 1829 in Kassel
† August 21, 1901 in Blankenerghe (West Flanders)
After Adolf Fick had already been an extraordinary and in 1862 ordinary professor of physiology in Zurich, he was appointed to the JMU in 1868. He developed the cardiac output count (Fick'sches Prinzip/ Fick method) and described diffusion processes in vivo (Ficksche Diffusionsgesetze/ Fick's law). Fick is considered a pioneer in the field of muscle physiology. His work found recognition in the US, too.
Shapiro stated in the American Journal of Cardiology 1972: "Adolf Fick- forgotten genius of cardiology", "that he was unquestionably the Columbus of medical physics".
His former home was at today's Röntgenring 9 (Institute of Physiology), which was Pleicher Ring 9 in his day. Furthermore, he lived in Kapuzinerstraße 19 and Kapuzinerstraße 21.