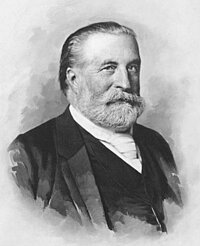 *16. December 1836 in Riga
† 25. March 1907 in Wiesbaden
Bergmann worked as a professor and chief surgeon for the Juliushospital in Würzburg.

He is regarded as the pioneer of brain surgery and as one of the most significant surgeons of his time. For the treatment of war-injuries, he relied on modern methods, like the usage of plaster casts for gunshot injuries at the knee joint and the usage of an antiseptic bandage to cover up wounds. In the following time, he redirected his research from the chemical antisepsis to steam sterilisation of bandages for the treatment of wounds. Von Bergmann is considered to be the "Father of Asepsis". As a great orator, he fought for the advanced education of medical professionals.