The Archive as the University's Memory
Roles & Responsibilities
According to Article 14 Paragraph 2 of the Bavarian Archives Act, JMU's University Archives is a public archive. It is therefore entrusted with the task of keeping all documents "that are of lasting value for scientific research, for the protection of legitimate interests of data subjects or third parties, or for purposes of legislation, case law, or administration". (BayArchivG Art. 2 Para. 2)
The immediate area of responsibility includes acquisition, undertaking, maintenance, preservation, indexing, and evaluation of archived material, as well as making the archived material accessible, according to the Bavarian Archives Act, Article 2 Paragraph 3.
More about the Bavarian Archives Act here (German-language)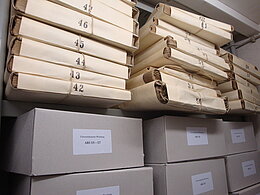 Care & Keeping of the Archives
The University Archives maintains the historical collections of the University of Würzburg. The record groups currently span the period from 1730 to 1945, though there are significant losses within and across record groups due to wartime damage. The inventory is maintained according to field standards.
In addition to collecting, cataloging, and preserving the holdings, the Uni Archives is also responsible for making the holdings accessible, usually by means of finding aids. The large majority of the photographic holdings are digitally catalogued, with the Rectorate and Senate records soon to follow. The processing and indexing of previously unrecorded material from the National Socialist era is also in the very early stages.
Here you will find an English-language overview of our inventory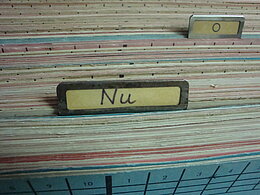 User Support
Significant portions of the archive's duties include processing and responding to user inquiries, as well as supporting the users themselves. As a provider of a public service, the archive often focuses on the research and processing of user inquiries and their support.
The archive handles inquiries about the history of the university from its 1582 founding to the immediate post-war period, as well as inquiries concerning holdings not directly related to the university (such as the archives of the student law firm). An exception is made for the holdings of the university clinics - any inquiries are forwarded to the clinic(s) themselves.
The University Archive serves as a reference for research both at home and abroad by identifying relevant archival material and providing information on existing literature. After the files in question are located and their compliance with data protection laws double-checked, the user is given access to the material.
In accordance with the above responsibilities, the archive serves as a research center and point of contact for both university members and the general public alike, whether the research be for a dissertation or a university Jubilee.
Want to use the archives? Find more information here. (translation in progress)