General Assembly Fourth - Special Political and Decolonisation Committee
Das Special Political and Decolonization Committee, oder kurz SPECPOL, ist ein Unterkomitee der Generalversammlung. Zunächst war mir etwas mulmig bei dem Gedanken, dass ich Angola ganz alleine in einem der großen GA-Komitees vertreten sollte; dies erwies sich im Nachhinein jedoch als unbegründet.
Da die GA 4 keinen festgelegten Aufgabenbereich hat, sondern sich vielmehr fast allen aktuellen Themen widmen kann, standen bei NMUN drei vollkommen verschiedene Punkte auf der Agenda: Das Problem der palästinensischen Flüchtlinge und des israelischen Siedlungsbaus; die friedliche Nutzung des Weltalls; und zuletzt die Informationstechnologien des 21. Jahrhunderts.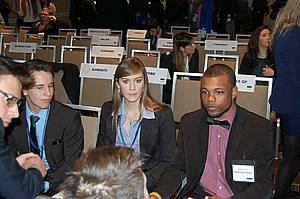 Man tauscht Ideen aus und versucht Kompromisse zu finden
Nach intensiver Vorbereitung auf alle drei Themen stand fest, dass ich mich für das dritte einsetzen würde, da die neuen Informations- und Kommunikationstechnologien für ein aufstrebendes afrikanisches Land wie Angola von enormer Bedeutung sind. Bei der Abstimmung über die Tagesordnung während der Konferenz sprach sich jedoch eine knappe Mehrheit der Delegierten für die Behandlung des Konflikts zwischen Israel und Palästina aus, so dass letztendlich hierüber diskutiert wurde. Bezüglich dieses Themas vertritt Angola eine eher diplomatische und zurückhaltende Position: Zum einen hat es Palästina bereits seit einigen Jahren als eigenständigen Staat anerkannt und unterhält diplomatische Beziehungen zu diesem. Zum anderen sind aber auch die Beziehungen zwischen Israel und Angola sehr gut, besonders in wirtschaftlicher Hinsicht.
Aufgrund der Größe des Komitees bildeten sich gleich zu Beginn der Konferenz viele kleinere Arbeitsgruppen. Insgesamt war ein starker Zusammenhalt der Afrikanischen Union zu spüren und ich versuchte, Angolas Stellung in der AU gerecht zu werden. So begann ich mit einem Großteil der anderen afrikanischen Länder an einem Resolutionsentwurf zu arbeiten, der genau Angolas Vorstellungen entsprach: Verurteilung der israelischen Siedlungspolitik und Hilfe für die palästinensischen Flüchtlinge, aber alles vage genug um die Freundschaft mit Israel nicht zu gefährden. Besonders interessant war dabei die Tatsache, dass wir eine Libanesin in unserer Gruppe hatten, die uns aus eigener Erfahrung einiges zu diesem Thema berichten konnte.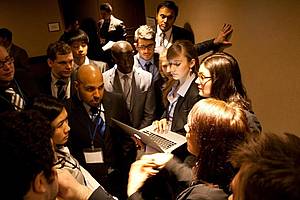 Gemeinsam arbeitet man eine "Draft Resolution" aus
Um die Chancen für eine Verabschiedung unserer Resolution zu erhöhen, kombinierten wir unseren Entwurf kurz vor Abgabe mit einem anderen, der ebenfalls von afrikanischen Ländern geschrieben worden war und sicherten uns so die Unterstützung vieler weiterer Länder. Nach zahlreichen weiteren Arbeitseinheiten und etlichen Verbesserungen wurden unsere Mühen schließlich belohnt: Bei der Abstimmung am letzten Konferenztag bekam unser Entwurf eine große Mehrheit und wurde somit als Resolution verabschiedet. Am Abend feierten wir dies natürlich auch gebührend bei unserer Abschlussparty.
Alles in allem kann ich sagen, dass die Konferenzwoche einerseits zwar anstrengend und arbeitsintensiv war, die positiven Erfahrungen, Begegnungen und der Spaß an der Sache haben dies jedoch bei weitem überwogen.
Stefanie Gschoßmann