Die BayernMUN in Neudettelsau
Nachdem ein Teil der Delegation bereits in Prag seine zweite Vorbereitungskonferenz absolviert hatte, versuchte sich nun auch der Rest ein weiteres Mal als Delegierter bei der BayernMUN in Neuendettelsau. Diese Simulation, welche von der Friedrich-Alexander-Universität Erlangen-Nürnberg speziell zur Vorbereitung auf New York alljährlich organisiert wird, fand vom 22. bis 24. Februar 2013 statt.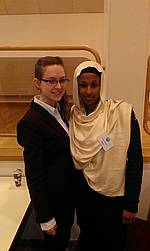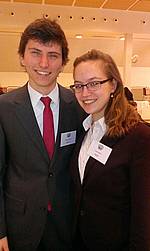 Auf der Konferenz wurden unterschiedliche Länder in der GA-Plenary vertreten
Unsere Delegation repräsentierte in Zweierteams eine große Bandbreite von Ländern: Japan, Indien, Nordkorea und natürlich auch Angola wurden durch die Universität Würzburg vertreten. Da bei der BayernMUN nur das General Assembly Plenary simuliert wird, bot sich nun für uns auch die Gelegenheit, im selben Komitee miteinander zu arbeiten und zu verhandeln. Insgesamt waren 35 Nationen vertreten. Viele der Delegierten sollten ebenfalls nach New York fahren, und so konnten wir bereits erste Kontakte und Allianzen für die dortige Konferenz knüpfen.
Die Themen, welche zur Debatte standen, waren "Fresh Water Management and Economic Development", "Combating Human Trafficking" sowie "Follow-up on the Durban Declaration and Programme of Action". Dabei handelte es sich um Themen der verschiedenen General Assembly Committees der NMUN Konferenz des vergangenen Jahres. Auch die angewandten Rules of Procedure entsprachen denen aus New York, um eine optimale Vorbereitung zu garantieren.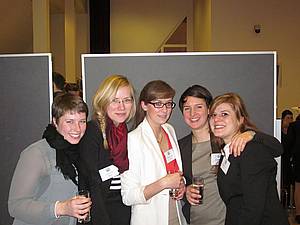 Gemeinsam wurde über Wasserversorgung debattiert
Nach kurzen Einstiegsverhandlungen ergab sich sehr bald eine große Mehrheit für das Thema "Fresh Water Management". Die Vollversammlung war sich schnell einig darüber, welch große Bedeutung die Ressource Wasser für die Entwicklung, die Wirtschaft und den Weltfrieden hat. Wie jedoch das Problem der ungleichen Verteilung der Ressource sowie ihre Gefährdung durch Verschmutzung und Ausbeutung gelöst werden kann, wurde zum Kernpunkt der Debatten und Resolutionsentwürfe. Durch die gute inhaltliche Vorbereitung konnten die Würzburger Delegierten sich hierbei konstruktiv einbringen und ihre Länder realistisch vertreten. Am Ende wurden mehrere Resolutionen verabschiedet, die vor allem bessere Bildung für die Landbevölkerung und Wassersparmaßnahmen für Industrie und Landwirtschaft forderten.
Neben den Sessions gab es zudem das Angebot einer Jobmesse sowie einen Gastvortrag unseres wissenschaftlichen Beraters Generalmajor a. D. Manfred Eisele, der interessante Einblicke gab in seine Zeit als beigeordneter Generalsekretär der Vereinten Nationen. Außerdem beantwortete er ausführlich alle Fragen der Teilnehmer zur UNO und zu seinem Werdegang.
Insgesamt war die BayernMUN eine wichtige Station der Vorbereitung, da wir noch einmal die Gelegenheit hatten, unsere Verhandlungsstrategien zu üben, die Rules of Procedure zu verinnerlichen und Resolutionen auszuarbeiten, was sicherlich zu unserem Erfolg in New York beigetragen hat.
Lorena Mohr