WueResearch Goes Live
08/29/2022
The University of Würzburg now has its own system for collecting, organising, sharing and using publications: WueResearch. The system is live and ready for use.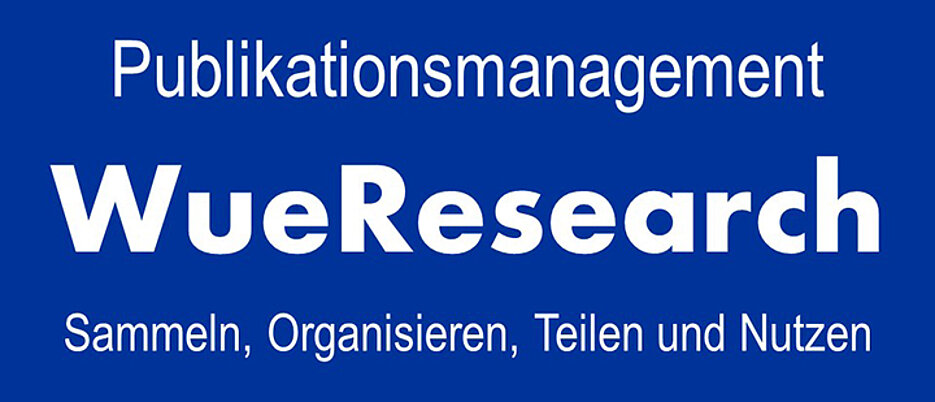 Sift through and collect academic literature to keep track of relevant publications in their field of research: This is what researchers do every day.
Knowledge management tools help them not to lose track. With the software application WueResearch, Julius-Maximilians-Universität Würzburg (JMU) now has its own system for the collection, organisation, sharing and use of publications. At the same time, the system supports the JMU at the institutional level in reporting and benchmarking. WueResearch has been live and ready for use by JMU researchers since August 2022.
Collecting and organising publications
Entering publications into a database can be tedious and time consuming. WueResearch therefore offers users a variety of quick and easy ways to add publications to their user profiles - for example automatically via the DOI or ISBN of a publication, by importing EndNote, BibTeX or RIS snippets or by synchronising their profiles with an existing BibSonomy or ORCiD account. In addition, WueResearch offers a browser add-on through which users can add publications directly to their profiles with just a few clicks while surfing the internet.
With the help of user-definable keywords, so-called tags, the collected publications can then be organised clearly and efficiently, for example by topic or project. This makes it easy to find the relevant literature later. In addition, documents can be linked to the saved publications, for example the full texts of the publications or other supporting sources.
Citing and exporting publications
In addition to helping users collect and organise publications, WueResearch will soon also support them in their academic work.
The individual publications that have been entered into WueResearch can be exported in just a few steps in many different citation styles and thus made available for further use in other tools (e.g. Microsoft Word, Reference Manager, EndNote and BibTeX). Alternatively, users can create complete bibliographies and export them in many different formats.
Displaying bibliographies on the JMU website
Putting lists of their publications on the web pages of their Institute or Chair is a common way for researchers to make their work visible to others. However, these bibliographies are often still created manually in many different formats and have to be updated regularly.
Through an interface with the TYPO3 content management system, WueResearch makes this task easier for its users: Via a plug-in in TYPO3, the publications saved in a user's profile can be linked to any page of the JMU website.
Whenever a new publication is entered into WueResearch, the bibliographies on the corresponding pages will be updated automatically. This feature not only saves users the time of manually updating bibliographies, it also helps standardise the way in which information is presented on the JMU website.
Reporting and benchmarking
In addition to these functions, which are useful for individual researchers, WueResearch also offers added value at the institutional level.
In the future, for example, the system will make it possible to record and map the publication activities of the JMU. It will then be possible to use this information to support reporting, for example in the case of enquiries made by ministries or research funding bodies, as well as strategic planning.
Accessible from anywhere
A major advantage of the system is that, as a web application, it can be accessed and used from anywhere - no matter where the users are. All that is needed is a VPN connection to the JMU network. Users will not have to install the software locally on their devices.
Contact and help
More information and a user guide can be found on the following pages:
Important information about

WueResearch

Detailed

instructions

(pdf; in German) on how to use the most important functions
Answers to frequently asked questions (

FAQs

)
If you have further questions about the system, you can also contact the JMU Research Advancement Centre at wueresearch@uni-wuerzburg.de