FAST - Franconia Alliance of Science and Technology
Franconia Alliance of Science and Technology – FAST
Kooperation nordwestbayerischer Hochschulen in Wissenschaft und Technologie
Die Hochschulen für angewandte Wissenschaften Ansbach (HAN), Aschaffenburg (HAB) und Würzburg-Schweinfurt (FHWS), die Julius-Maximilians-Universität Würzburg (JMU) und das Universitätsklinikum Würzburg (UKW) arbeiten schon seit langem in verschiedenen Bereichen der Wissenschaft, Forschung und Lehre zusammen. Die fünf Einrichtungen haben jetzt eine Allianz gegründet, um zu gemeinsamen Themen im Bereich Wissenschaft und Technologie eng zu kooperieren.
Der Verbund der Hochschulen im Nordwesten Bayerns trägt den Namen "Franconia Alliance of Science and Technology" (FAST). Durch FAST sollen wissenschaftliche und technologische Schwerpunkte aufgegriffen und weiterentwickelt werden sowie regionale Stärken synergetisch gebündelt und überörtlich bereitgestellt werden. Damit erhält der Raum Nordwestbayern eine Wahrnehmbarkeit als Wissenschaftsregion, die im Hinblick auf die Nähe zu Hessen, Baden-Württemberg und Thüringen eine Strahlkraft weit über die Region hinaus in die angrenzenden Bundesländer entfachen wird.
Der FAST-Verbund umfasst rund 44.000 Studierende in ca. 180 Bachelor- und 110 Master-Studiengängen, die von rund 800 Professorinnen und Professoren betreut werden. Damit ist der Hochschulverbund mit der Größe anderer Metropolregionen vergleichbar.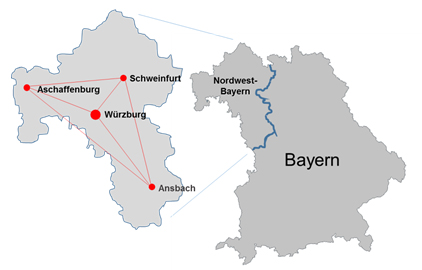 Die Ziele der Franconia Alliance of Science and Technology
gemeinsame Projekte in der Lehre
die abgestimmte Konzeption und Durchführung von Forschungsprojekten
Maßnahmen zur Durchführung von Verbundpromotionen
Kooperationen mit der Wirtschaft.
Die Kooperation unterstützt auch die regionale Umsetzung des durch das Bayerische Staatsministerium für Bildung und Kultus, Wissenschaft und Kunst initiierten Bayerischen Wissenschaftsforums (BayWISS), mit dem die Durchlässigkeit wissenschaftlicher Karrierewege in Bayern unter Berücksichtigung hoher Standards weiter ausgebaut wird.
Vorgehen
In einem ersten Schritt haben die Hochschulen der FAST sechs in enger Abstimmung entworfene Anträge auf die Einrichtung von Professuren im Programm Zentrum Digitalisierung.Bayern (ZD.B) der Staatsregierung eingereicht. Die Anträge werden jeweils von einer Hochschule federführend getragen. Sie basieren auf herausragenden, profilbildenden Stärken dieser Hochschule und sind zu den anderen Anträgen der Verbundhochschulen komplementär. Gleichzeitig werden mit den anderen Hochschulen des Verbunds Synergien mit den weiteren beantragten Professuren bzw. mit der an allen Standorten zu den verschiedenen Themen bestehenden Hard- und Software-Expertise erschlossen.
Anträge
HaW Ansbach: "Digitale Inklusion und Ambient Assisted Living"
HaW Aschaffenburg: "Kooperative, automatisierte Verkehrssysteme"
HaW Würzburg-Schweinfurt: "Sozioinformatik und gesellschaftliche Aspekte der Digitalisierung" und "Flexible Digitale Produktion (Industrie 4.0)"
Universität Würzburg: "Medical Data Engineering" und "Digital Media Processing"