Targeting Platelets
05/25/2018
New Collaborative Research Centre for Würzburg and Tübingen: The aim is to decode the insufficiently understood functions of platelets. These blood cells are likely to be involved in many more diseases than previously thought.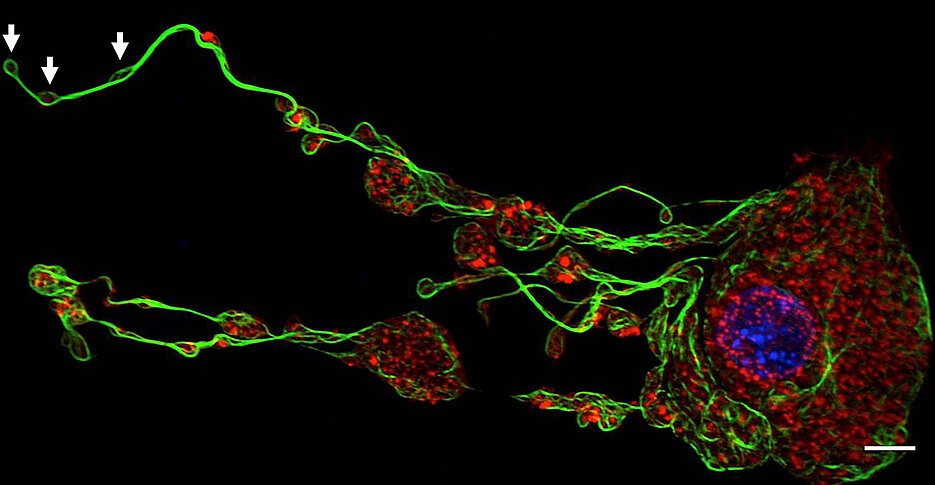 Emerging platelets (white arrows) are buded off by their progenitor cells, the megakaryocytes. Here the cytoskeletal components tubulin (green) and actin (red) and the nucleus (blue) are colored. (Picture: Rudolf Virchow Center)
Platelets do much more than to stop bleedings and to cause heart attacks," explains Professor Bernhard Nieswandt, Director of the Institute for Experimental Biomedicine, supported by the University Hospital Würzburg (UKW) and the Rudolf Virchow Center for Experimental Biomedicine of Julius-Maximilians-Universität Würzburg (JMU) in Bavaria, Germany.
"Recent studies have suggested that there are very complex interactions between the smallest blood cells and various inflammatory processes, cellular defense mechanisms, innate immunity, the maintenance of vascular and organ functions and the development of tumors."
According to Professor Nieswandt a more detailed knowledge of the underlying molecular mechanisms is central to a better understanding of diseases such as heart attack, stroke, acute lung failure, and cancer.
Collaborating with University of Tübingen, Germany
The outstanding importance of platelet (thrombocytes) research was also confirmed by the DFG (Deutsche Forschungsgemeinschaft): They recently approved the Collaborative Research Center Transregio (SFB / TRR 240) "Thrombocytes – molecular, cellular and systemic functions under physiological and pathological conditions". The new Research Center is funded with 13.7 million euros, for an initial term of four years, starting on July 1, 2018.
The JMU Institute for Experimental Biomedicine was leading the application. Prof. Dr. med. Meinrad Gawaz, Director of the Medical Clinic III (Cardiology) of the University of Tübingen, was co-applicant. Both institutions have longstanding research programs on platelets.
From bench to bedside: Basic research, but close to clinical application
"The very pronounced translational character that unites basic researchers with clinicians is one special strength of our network", emphasizes Professor Nieswandt and specifies: "We are positive that our newly gained basic findings will quickly lead to novel treatment concepts for a whole series of Diseases that have not previously been seen in the context of platelets. "
Prof. Dr. med. Georg Ertl, Medical Director of the UKW, says proudly with regard to the reputation of the location: "The DFG reviewers confirmed with this grant approval that Professor Nieswandt and his team are among the world elite in fundamental platelet research. Research for our patients is one of our outstanding duties."
Scientists from Greifswald University Hospital and Dortmund Leibniz Institute for Analytical Sciences (ISAS) are also involved in the new Collaborative Research Center. The interdisciplinary research group combines molecular genetics, in vivo disease models, high resolution microscopy, in vivo imaging, systems biology, translational approaches and clinical research.
Scientific Background
Each day, around 100 billion platelets are produced from giant progenitor cells in the bone marrow of a healthy person, circulating in the bloodstream for about ten days. Their best-described function is to control the vessel wall for injury, sealing it if necessary in order to prevent uncontrolled blood loss. If uncontrolled thrombus formation occurs, platelets can form large aggregates, big enough to lead to life-threatening vascular occlusions such as in the case of a heart attack or stroke.
Person
Since the year 2002 Professor Bernhard Nieswandt works in various capacities at JMU. After studying biology and biochemistry, he completed his doctorate at the University of Regensburg and habilitated in the field of experimental medicine at the University of Witten / Herdecke, Germany.
Since 2008, he has held the Chair of Experimental Biomedicine with focus on Vascular Biology and is Head of the Institute for Experimental Biomedicine, which is jointly supported by the University Hospital Würzburg (UKW) and the Rudolf Virchow Center for Experimental Biomedicine at JMU. Since April 2016, he is part of the dual leadership of the Rudolf Virchow Center for Experimental Biomedicine.
Weblink