Strong Support for Applied Boron Research
10/04/2022
The Würzburg Institute for Sustainable Chemistry & Catalysis with Boron receives 800,000 euros – thanks to a research funding initiative of the governing coalition of the Free State of Bavaria.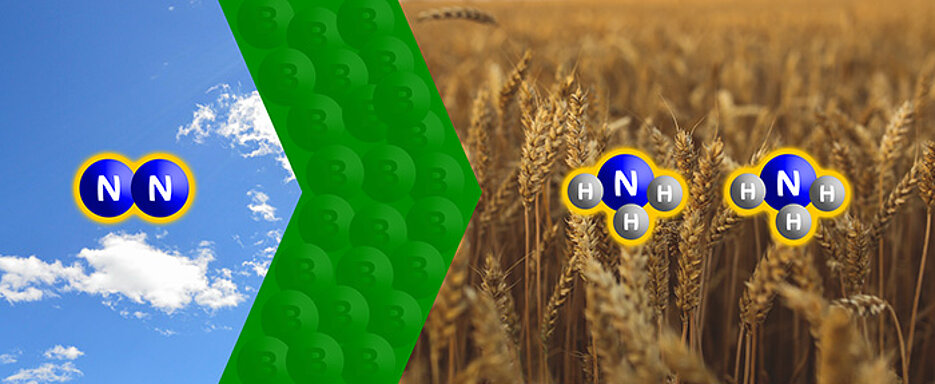 Depiction of the boron-mediated conversion of dinitrogen from the air to ammonia used in fertiliser. (Image: Dr. Rian Dewhurst / Universität Würzburg)
The European energy crisis is having widespread effects on Germany, igniting a renewed interest in how the building blocks of our society are made and used.
Ammonia is a key part of synthetic fertilizers that allow the world's population to be fed, but its production via the Haber-Bosch process is massively energy-intensive, consuming roughly 2% of global energy production and accounting for nearly 5% of worldwide natural gas usage.
A recent research promotion initiative of the governing coalition of the Free State of Bavaria has selected the Institute for Sustainable Chemistry & Catalysis with Boron (ICB) of Julius-Maximilians-Universität (JMU) Würzburg to receive 800,000 euros research funding for the development of environmentally-friendly, boron-mediated processes for the production of fertilizer.
An institute dedicated to applied boron research
The ICB has already established itself as the world's leading location for the chemistry of the element boron.
Researchers at the ICB have in just a few years established a research network comprising over 140 collaboration partners in 28 different countries, as well as industrial cooperations in energy-related research with companies ranging from small- and medium sized to large multinational corporations.
Potential for a low-energy, low-waste synthesis of ammonia
The research building housing the institute was opened earlier this year, however, its research has been making remarkable impacts for a number of years now.
In a stunning series of discoveries from the young institute starting in 2018, boron-centered molecules were found to bind nitrogen from the air and convert it to ammonia at room temperature and completely avoiding the use of ecologically problematic metals.
Although there is much work to be done before a practical process can be achieved, the discovery hints at the possibility of drastically cutting the energy required to produce ammonia, as well as eliminating undesired waste products of the current industrial process.
Funding for top-level research and training
The awarded research funding will be used for the training of Ph.D. students and their further development of boron-mediated reactions towards practical, energy-saving industrial processes.
After completing their Ph.D. degrees, the funded students will have deep experience not only in cutting-edge chemical synthesis, but also sustainability and energy research, making them uniquely well-placed to shape the future of German and European industry.
Contact
Prof. Dr. Holger Braunschweig, Institut für Nachhaltige Chemie & Katalyse mit Bor, Institut für Anorganische Chemie, Fakultät für Chemie & Pharmazie, JMU, T +49 931 31-85260, h.braunschweig@uni-wuerzburg.de
Website of Braunschweig's team: http://www.braunschweiggroup.de/