Gegen Gewalt an Frauen
11/25/2022
Mit einer Beflaggung beteiligt sich die Universität an der Kampagne "Orange the World" – ein Statement, das sich gegen Gewalt an Frauen richtet.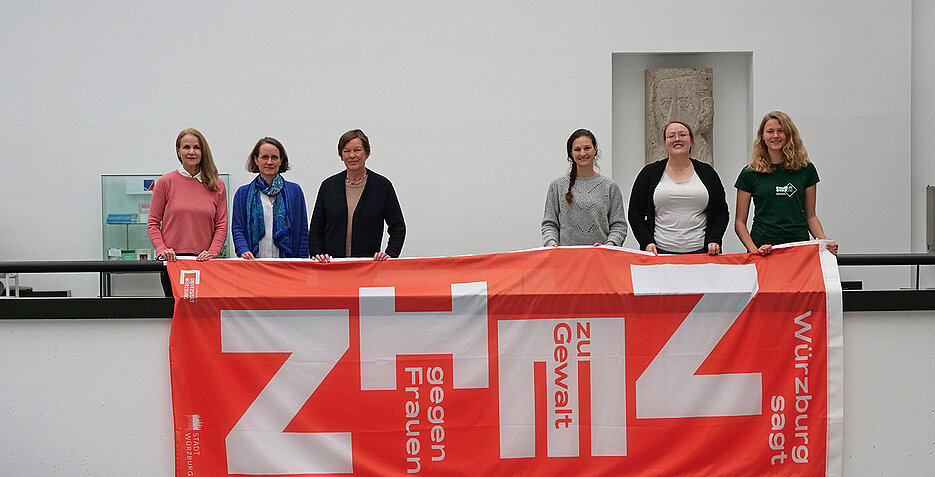 Die Uni setzt ein Zeichen gegen Gewalt an Frauen (v.l.): Pressesprecherin Esther Knemeyer, Vizepräsidentin Anja Schlömerkemper, Universitätsfrauenbeauftragte Brigitte Burrichter, ihre Mitarbeiterin Elena Stenglin sowie Pia May und Selina Mutzbauer vom studentischen Sprecher- und Sprecherinnenrat. (Image: Robert Emmerich / Universität Würzburg)
Neue Zahlen des Bundeskriminalamtes zeigen: Gewalt in Partnerschaften bleibt in Deutschland auf einem hohen Niveau. 2021 wurden 143.604 Opfer polizeilich erfasst. Das sind zwar drei Prozent weniger als im Jahr davor, doch in den vergangenen fünf Jahren sind die Opferzahlen um insgesamt 3,4 Prozent gestiegen. 80 Prozent der Opfer waren Frauen, die Täter waren meistens Männer (79 Prozent). 113 Frauen und 14 Männer starben infolge der Gewalt.
Grund genug auch für die Julius-Maximilians-Universität Würzburg (JMU), zum "Internationalen Tag gegen Gewalt an Frauen" aktiv zu werden: Die Universität beflaggt ihr Hauptgebäude am Sanderring und den Hubland-Campus ab 25. November mit orangefarbigen Fahnen. Diese Farbe wurde im Rahmen der von den Vereinten Nationen initiierten "Orange The World-Kampagne" als Symbol für eine Zukunft festgelegt, in der es keine Gewalt gegen Frauen mehr gibt.
Zeichen gegen jede Form von Gewalt an Frauen
Gewalt gegen Frauen sei allgegenwärtig, wie aktuell in Kriegsgebieten oder im Iran. "Aber auch bei uns in Deutschland hören wir immer wieder von Beziehungskonflikten, die gewaltsam enden und von sexuellen Übergriffen bis hin zu Vergewaltigungen. Eine subtilere Gewaltausübung sind Benachteiligungen von Frauen im familiären, sozialen oder beruflichen Umfeld", sagt die Universitätsfrauenbeauftragte, Professorin Brigitte Burrichter.
"Mit den Fahnen setzen wir ein Zeichen gegen jedwede Form von Gewalt gegenüber Frauen – von den ganz offensichtlichen bis zu den subtileren, oft verborgenen", so Brigitte Burrichter.
"Wir durften dankenswerterweise die sehr gelungene Fahnenvorlage der Stadt Würzburg mit dem Logo der Universität ergänzen", ergänzt Dr. Esther Knemeyer, Pressesprecherin der JMU. "Passend zu unserer aktuellen Kampagne 'You are my UniversCity' treten hier Stadt und Uni gemeinsam auf – ein schönes Zeichen!"
Anlaufstellen an der Universität
Das Büro der Universitätsfrauenbeauftragten bietet konkrete Unterstützung für Studierende und Wissenschaftlerinnen: In Workshops und Coachings werden Strategien vermittelt, mit denen sich Frauen wehren können. "Und wir sind Ansprechpartnerinnen bei jeder Form von Benachteiligung und versuchen, lösungsorientiert zu helfen", sagt die Frauenbeauftragte der JMU.
Die Studierendenvertretung der JMU ist ebenfalls eine Anlaufstelle für Betroffene. Sie unterhält unter anderem ein Referat gegen Rassismus und gruppenbezogene Menschenfeindlichkeit und das Referat Queer:feminismus.
Weblinks
Büro der Universitätsfrauenbeauftragten