UAP as New Research Subject
02/07/2022
The University's Interdisciplinary Research Centre for Extraterrestrial Studies has expanded its range of topics to include Unidentified Aerial Phenomena (UAP).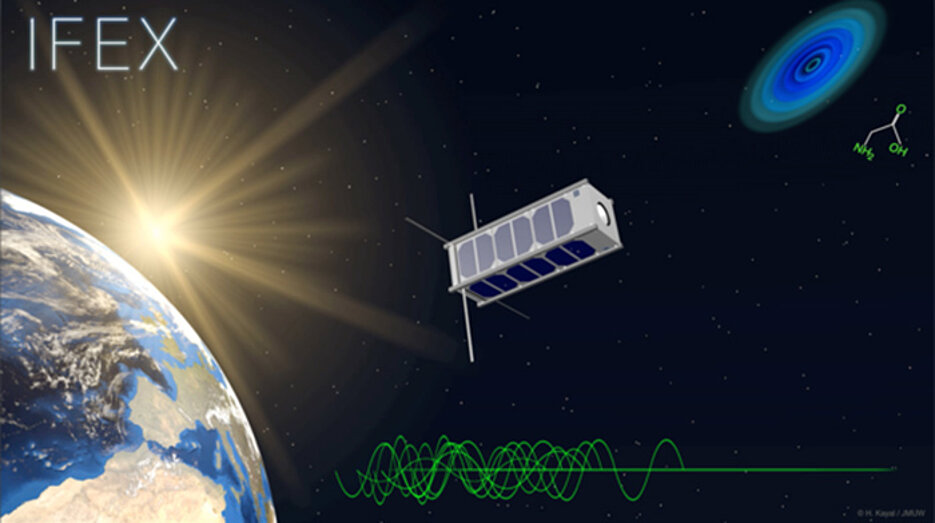 The graphic illustrates different aspects of extraterrestrial science - small satellites for astronomy, intelligent on-board signal processing, building blocks of life and galaxies. (Image: Hakan Kayal / Universität Würzburg)
The Interdisciplinary Research Centre for Extraterrestrial Studies (IFEX) is a cross-institutional scientific institution of the Faculty of Mathematics and Computer Science at Julius-Maximilians-Universität (JMU) Würzburg. It was founded with the aim of intensifying and institutionalising cooperation between the individuals and institutions involved.
The IFEX members develop technologies to explore space, objects in our solar system, stars and galaxies. In doing so, they also keep an eye on signs of extraterrestrial life and intelligences.
Since 25 January 2022, research on Unidentified Aerial Phenomena (UAP) has also been one of the centre's official goals. On this day, the JMU Senate approved a corresponding extension of the IFEX statute.
Diverse cooperations as a goal
"We want to promote the research on UAP in an interdisciplinary framework, carry out our own projects and seek cooperation with relevant institutions and authorities, such as the Max Planck Society, the German Aerospace Centre DLR, the Luftfahrt-Bundesamt LBA, or the Deutscher Wetterdienst," says IFEX chairman Hakan Kayal, professor of space technology at JMU.
Hakan Kayal has been working on UAP for a long time. Just a few weeks ago, he installed a new camera system on the Hubland campus in Würzburg that is supposed to detect unknown celestial phenomena using artificial intelligence methods.