Top in the Nature Index Ranking
06/22/2020
The Nature Index 2020 is an indicator of the University of Würzburg's strong research performance in natural sciences and life sciences, ranking 104th in the world and 5th in Germany in the recently published ranking.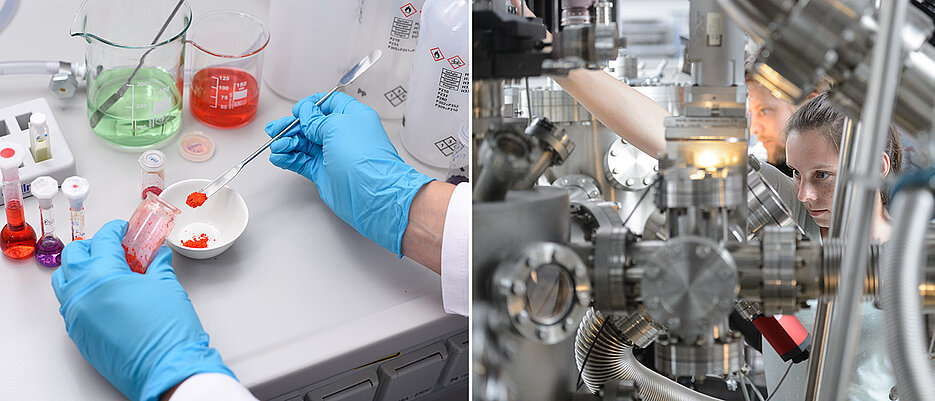 The department of chemistry and the physics department at JMU scored particularly well in the Nature Index ranking. (Image: Ingo Peters / Daniel Peter)
Each year, the Nature Index highlights publication outputs by research institutions in leading journals in life sciences and natural sciences. The current ranking takes into account all research articles published in 82 science journals in 2019 by a panel of independent experts in their fields. The analysis shows that scientists from the University of Würzburg in these disciplines contributed to papers published in the most prestigious international science journals with particular frequency.
In the Nature Index 2020, the University of Würzburg ranks 104th among all universities worldwide and 5th in Germany. Research performance in Würzburg is particularly strong in the natural sciences: The department of chemistry ranks 84th globally and 6th in Germany; the physics department ranks 85th worldwide and 7th in Germany. Würzburg life sciences are ranked 12th among German universities. When looking just at the papers published in the journals of the particularly renowned Nature & Science Group, the University of Würzburg even ranks 60th worldwide and 3rd in Germany.
Not among the biggest, but among the best
"The excellent performance of the University of Würzburg in the Nature Index 2020 is even more impressive considering the ranking methodology," University President, Alfred Forchel, says. He points out that large research institutions have a clear advantage since the ranking is based solely on the number of articles to which scientists of a university contributed. "Since we are not among the world's biggest 200 universities in terms of the number of scientists, we can be particularly proud of this result — it is a clear indicator of the excellent achievements of everyone involved."