Radical bismuth
09/03/2020
Chemist Crispin Lichtenberg has won a EUR 1.5 million Starting Grant of the European Research Council. He wants to use the money to study the potential of novel chemical compounds.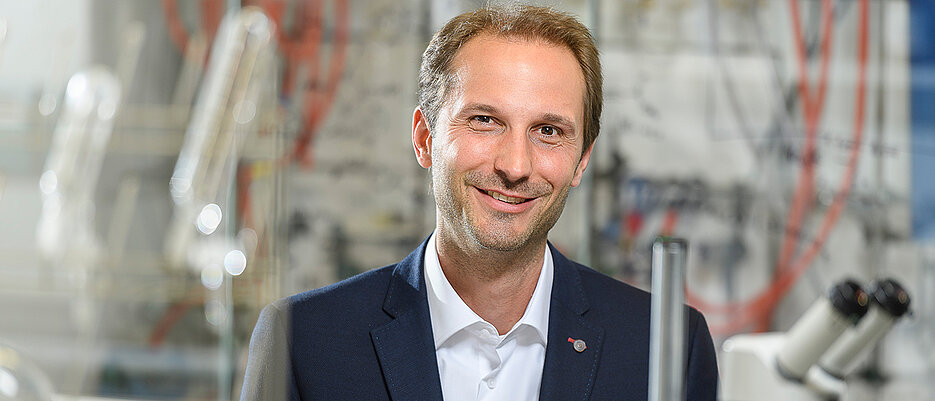 Crispin Lichtenberg (Image: Daniel Peter)
Bismuth is grey, has the atomic number 83 and was long considered the heaviest among the non-radioactive elements. In 2003, it was found that this is not entirely true when French scientists discovered that bismuth is in fact an alpha emitter. Due to its extraordinarily long half-life of around 19 billion billion years, its activity is however so weak that it can be considered harmless.
Bismuth is also the focus of Crispin Lichtenberg's research activities. The chemist is actively involved in research and teaching (PD) at the Department of Chemistry and Pharmacy of the University of Würzburg. He has recently been awarded a Starting Grant of the European Research Council in the amount of EUR 1.5 million for his work on bismuth. Over the next five years, Lichtenberg wants to use the grant money to learn more about bismuth and its compounds.
New compounds with exciting properties
"We are looking for new compounds with exciting properties that can be used for certain chemical reactions," Lichtenberg describes one of the goals he and his team are pursuing with the new research project. The so-called field of radical chemistry comprises some classes of reactions which will be a focus of their research. They are characterised by the presence of unpaired electrons and are often associated with limited controllability of the synthesis processes. The targeted bismuth compounds could help solve this problem.
"We can use bismuth compounds to create so-called radicals relatively easily," Lichtenberg says. These radicals can then be used to selectively trigger chemical reactions which would not be possible otherwise or with great effort only. This method would enable producing certain molecules in much fewer steps. Moreover, bismuth could replace other substances that are either (more) toxic or (more) expensive or which are sometimes mined under unethical conditions. Compared to these substances, bismuth is considered non-toxic; moreover it is relatively cheap and readily available.
Random finds not excluded
When searching for new compounds, the chemists proceed systematically; however, random finds are not excluded. "Years of experience have taught us how certain classes of materials behave and we use them accordingly. But the grey areas are often considerable," Lichtenberg explains. He says that unexpected things frequently happen, especially when scientists venture into areas about which little is known. After all, this is one of the goals of the new research project: gaining knew insights into areas that have been little researched so far and using them profitably.
Lichtenberg's "Bismuth Goes Radical" project will be funded with around EUR 1.5 million by the European Research Council. This will enable him to hire more staff, purchase new equipment and the necessary chemicals over the next five years. As a positive side effect, this will further strengthen the Chemistry department at the University of Würzburg. But Lichtenberg points out that the Würzburg Chemistry department in general and the Institute of Inorganic Chemistry in particular are already very well positioned as is regularly confirmed by numerous rankings.
ERC Starting Grants
ERC Grants are the most prestigious European science awards and are annually presented by the European Research Council (ERC) after a rigorous selection process. The Starting Grants, which usually come with a prize money of up to EUR 1.5 million, target excellent early-career researchers who want to start their own career and set up their own research team.
Vita
Crispin Lichtenberg studied chemistry in Marburg and Cambridge. He received his doctorate from RWTH Aachen University in 2013 under the supervision of Jun Okuda and worked as a postdoc in Hansjörg Grützmacher's group at ETH Zurich until 2015.
Endowed with a Liebig Fellowship from the Chemical Industry Fund, he has been pursuing his own research activities at Professor Holger Braunschweig's department since 2016. In early 2020, he completed his habilitation and has been teaching as a PD at the Department of Chemistry and Pharmacy since.
Contact
PD Dr. Crispin Lichtenberg, T: +49 931 31-88257, crispin.lichtenberg@uni-wuerzburg.de