New Bachelor of Arts in Ethnomusicology
03/14/2021
Diverse music cultures of the world are the focus of the new Bachelor's programme in Ethnomusicology at the University of Würzburg.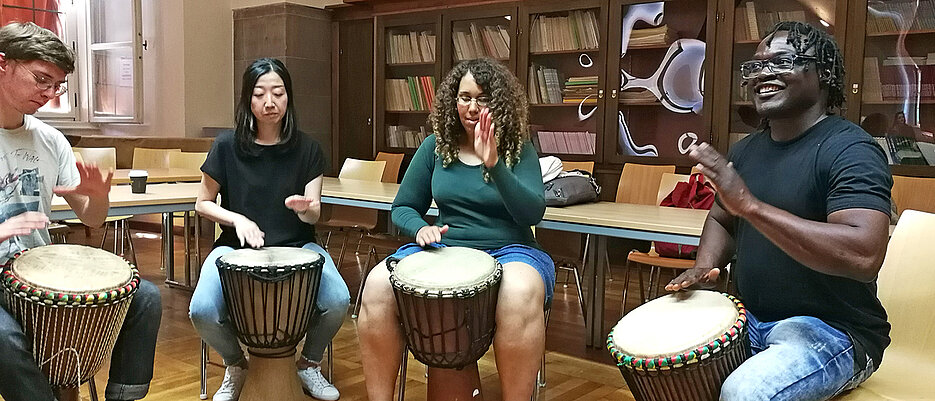 African percussion is just one of the musical genres included in the Bachelor's programme in Ethnomusicology. (Image: Juniper Hill / Universität Würzburg)
The Institute of Musical Research at Julius-Maximilians-Universität (JMU) Würzburg is pleased to announce a new Bachelor of Arts in Ethnomusicology as a minor subject (60 ECTS credits). This new program integrates music studies and sociocultural studies from intercultural and global perspectives.
Learning is interdisciplinary and bridges theory and practice. Students have the opportunity to participate in a broad range of lectures and small discussion seminars, contribute to Applied Ethnomusicology projects, and engage creatively with a variety of local and global traditions – ensemble courses are currently offered in Franconian, US-American, West/Central African, and Arabic musics.
As a 60-credit minor subject, the BA in Ethnomusicology may be combined with any 120-credit major subject. Recommended options are to combine Ethnomusicology with Musicology, Music Pedagogy, Political and Social Sciences, Museum Studies, Digital Humanities, Geography, Philosophy and Religion, or language or area studies programs such as South Asian Studies, British and American Studies, or Russian Language and Culture. Students are also encouraged to study abroad.
There is no entrance examination; however, knowledge of both English and German is necessary for this bilingual program. Students may begin their studies in either Winter Semester or Summer Semester.
For applicants from Germany, registration opens on March 16 for Summer Semester and on September 24 for Winter Semester. Tuition is free for all degree students regardless of residency or nationality.
International applicants have to apply via the JMU International Office. The application deadlines are 15 July or 15 January.
The Ethnomusicology program is part of the JMU Institute of Music Research, the largest university music department in Germany. Home to strong centers of early music research, historical musicology, and music pedagogy, the Institute offers many opportunities for interdisciplinary exchanges. Facilities include the Studiensammlung Musikinstrumente & Medien (including a large collection of historical and contemporary instruments from around the world), the Ethnomusicology Tonstudio (with field recording equipment that students may check out), a computer lab, an extensive Music Library, and an archive of medieval handwritten notation.
JMU is located in the North of Bavaria, in the lovely Main River Valley surrounded by vineyard covered rolling hills and is conveniently accessible via high-speed train to the Frankfurt airport and major European cities. This small livable city normally boasts a lively festival culture and, with 25% of the population being first and second generation immigrants, is home to diverse communities.
For more information about the program, see the website
https://www.musikwissenschaft.uni-wuerzburg.de/studium/studium-ethnomusikologie-english-version/
Questions? Contact Dr. Cornelia Günauer at cornelia.guenauer@uni-wuerzburg.de International applicants are encouraged to contact the International Office: https://www.uni-wuerzburg.de/international/startseite/