JMU Moves up in THE Ranking
09/27/2018
Upward trend continues: The latest Times Higher Education World University Ranking puts the University of Würzburg in 159th place worldwide, which is another improvement over last year.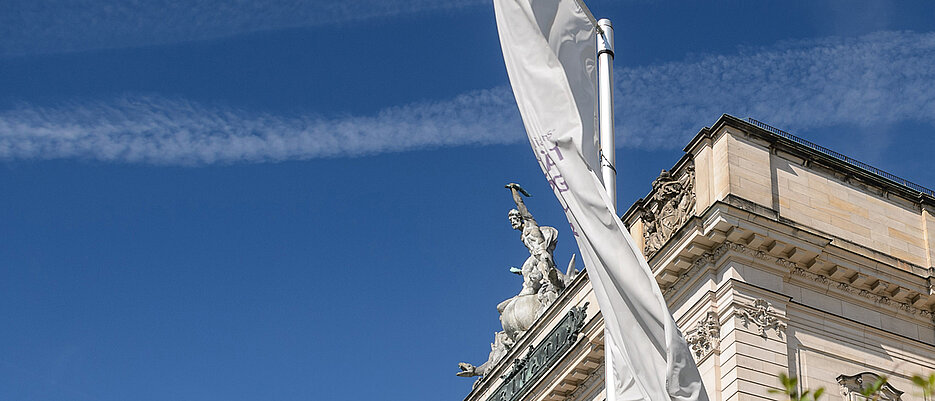 View of the Prometheus sculpture on the roof of the JMU main building. (Photo: Daniel Peter)
Julius-Maximilians-Universität Würzburg (JMU) in Bavaria, Germany, has again climbed in the Times Higher Education World University Ranking (THE). It now ranks 159th among the 1,258 universities evaluated worldwide, up six places from last year.
In Germany, JMU ranks 19th among the 47 institutions included in the ranking. Moreover, among the 23 German universities that made it into the top 200, the University of Würzburg is one of only eight institutions that have improved their result compared to the previous year.
Which indicators does the THE Ranking use?
The THE Ranking evaluates the performance of universities across five areas: teaching, research, citations, international outlook and industry income. The ranking is based on various performance indicators such as the number of publications in journals, successful funding proposals or the relationship between teachers and students. The individual results are weighted differently to deliver a final score.
Top result in citations
As in the past, JMU achieved its best result in the "Citations" category, scoring 87.3 out of 100 points. This category indicates the number of times the University of Würzburg's published work is cited by scholars globally.
Good results also in other rankings
Together with the Shanghai Ranking, the THE Ranking, whose latest results were published on 26 September 2018, is one of the leading barometers of academic quality on an international scale. The results of the latest Shanghai Ranking (Academic Ranking of Universities Worldwide, ARWU) were published in August 2018. This ranking placed JMU among the top 200 universities worldwide and among the top 14 universities in Germany.
Weblinks
Shanghai-Ranking 2018 – JMU Press release