From Würzburg into the world
10/01/2018
Harald Reinhart trained and completed his residency as a medical doctor in Würzburg. Today, he alternately works as a hospital doctor and as the CEO of a consulting firm, travelling between Jordan and the USA.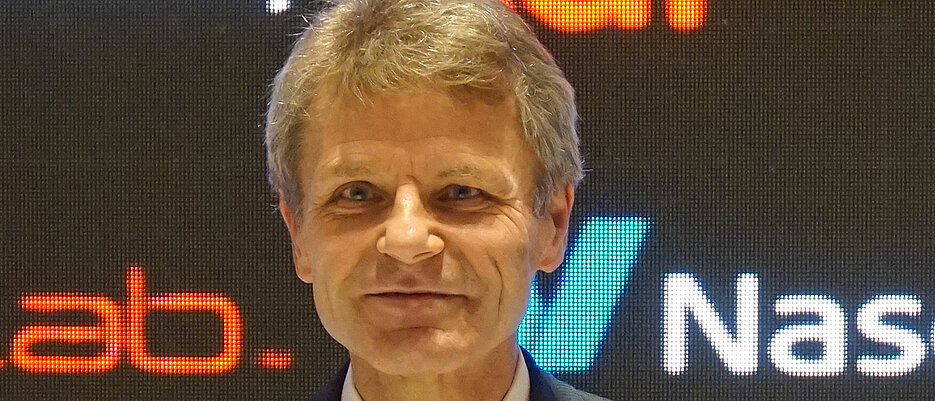 Harald Reinhart has been working in the Yale hospital service for 25 years where he cares for inpatients and outpatients. He also has an office in Jordan as the CEO of a consulting firm. (Photo: private)
Which jobs do graduates from the University of Würzburg work in? To present different perspectives to students, Michaela Thiel, the director of the central alumni network, interviews selected alumni. This time, it is Harald Reinhart's turn.
During his medical training at the University of Würzburg and at the university hospital, he worked in Anaesthesiology, Psychiatry and Internal Medicine. In the US, he received board certifications in Internal Medicine and Infectious Diseases. He is an Adjunct Clinical Professor (Infectious Diseases) at Yale University School of Medicine where he cares for patients as an Attending Physician.
Harald Reinhart worked as a pharmaceutical executive for more than 20 years. Among others, he played a major role in developing the antibiotic ciprofloxacin, antiviral drugs e.g. for HIV and an anti-malarial drug. He is currently the CEO of Allphase Pharma Consulting, a consulting firm specialized in clinical development and international registration of new antibiotics and other drugs.
Harald Reinhart lives with his family in the US and Jordan.
Professor Reinhart, how is your work situation in the USA different from that in Germany? There are a number of major differences between the two countries. The USA have a much more competitive medical environment which is performance based and technology focused more than anywhere else. You are expected to demonstrate a proactive mentality and this is absolutely essential. They still lead the field when it comes to the quality of medical care; the education is excellent and very practice-oriented.
And how is the situation in Jordan? Things are totally different there. Although I am not licensed as a doctor in Jordan, I got many insights into the hospital and healthcare system. Jordan has an excellent healthcare network; a lot of doctors have studied in Europe or the US. What they lack are high-quality training programmes for young doctors and research facilities like we have at German, and to an even greater extend, at US universities.
What does your typical day at work look like? I have been working in the Yale hospital service for 25 years in inpatient and outpatient care. Being an ID consultant, my colleagues consult me in difficult cases. As elsewhere in the world today, we have problems with multidrug resistant bacteria and we are confronted with complex diagnostic issues, for example when treating immunosuppressed patients. I regularly work with hospital hygiene experts and microbiologists. My team also includes medical students and colleagues in residency. Teaching and giving lectures are an important part of our job.
And what is your job at Allphase Pharma Consulting? My consulting tasks as the CEO of Allphase Pharma Consulting are varied. We have projects all over the world, from early phase research and early clinical development to submitting applications with the registration authorities. We have specialized in the development of new antibiotics and we consult and support companies in the operational and strategic aspects of drug development to achieve product approval cost-effectively and quickly.
This sounds as if some economics knowledge comes in useful. You are right. A good understanding of the business aspects is often needed and appreciated. Sadly, a lot of health professionals neglect this domain. Also cost structure transparency is still an issue in most countries and only physicians running their own practice see themselves as businessmen on their own behalf. Whether pharmaceutical research, healthcare providers, the pharmaceutical industry, pharmacies, registration authorities, insurers, investors or financial institutes, ultimately it's all about costs, yield and efficiency.
How did you acquire this knowledge? I had the opportunity to participate in classes at various business schools in the USA which are offered especially for pharmaceutical executives. Similar institutions exist in Europe and I strongly recommend getting a good understanding of the financial aspects of the medical business.
What do you like about living and working in Jordan? So much here is totally different from what you hear in the news. Jordan is a relatively poor country without any major industry, but it has a very young population looking for work. Consequently, the population pyramid is the opposite of that in most European countries where the percentage of the older population is growing continuously. It is nice being in an environment that is still developing where there is no stagnation and less regulation. But I am also aware of the disadvantages associated with living in a developing country; it's not for everyone.
How are the working conditions there? Amman, Jordan's capital, has a central location in the Middle East, good transport links to international destinations, a modern airport and internet access almost everywhere. Consequently, I can run my business from here as efficiently as from Boston, New York or Berlin. By the way: Jordanians praise Germany as a country where you can get both a good education and earn a decent salary.
And what do you like about living and working in the USA? I am convinced that the medical training at US universities is the best in the world. They are still at the very top of all rankings worldwide. Although training in the US is expensive, students have a greater say in what they learn, they can ask lecturers for more teaching time, insist on quality and have access to the hospital management. As a result, training is really taken seriously by everyone involved. It is very intense and that's fun. It's dynamic.
And life after work? Life is surely more hectic; the work-life balance is completely different from Germany and also very difficult to accept from a German perspective. This is due to the different cultural approach in the US. But this is another topic.
Why have you specialized in infectious diseases? For me, infectiology is the most intellectually stimulating medical discipline. This field of medicine has expanded considerably over the past decades. There is always something new to learn. For one thing, this is because of the multitude of newly discovered pathogens – think of helicobacter, HIV, hepatitis – and for another, because of new treatments that are only possible because of antibiotics. We no longer need Billroth's operations today for gastric ulcers and HIV patients have a near normal life expectancy. Immunosuppression, transplantation, surgical prosthetics, premature deliveries: Infection control is crucial in all these areas or has made them possible in the first place. What is more, we live in a world where rapid diagnostics is making huge progress. The new molecular methods of specific pathogen recognition including resistance profiles will continue to change our field in the future.
What are your best memories of your time in Würzburg? I still think fondly of many of my Würzburg professors; I owe them a lot. For example, I am still impressed by Professor Seeliger, the long-standing head of microbiology and hygiene, who sparked an interest in his discipline in me. Professor Bauereisen and Professor Henschler in physiology and pharmacology-toxicology have also had a great influence on me: two outstanding teachers whose dedication to their subject has inspired me deeply. I also fondly remember Professor Franke and his electrifying lectures in the Medical Polyclinic, a clinician committed to teaching.
Are you involved in alumni activities at Yale? Not directly and rather marginally so. Having completed my medical training in Würzburg, I have always considered the University of Würzburg to be "my" alma mater, which I proudly mentioned wherever I was.
Thank you for the interview.
If you want to learn more about the alumni network of the University of Würzburg or to register, follow the link below.