First-class works from the Greuter workshop
04/07/2016
For the first time, a scientific catalogue will be published which includes works of the Greuter family, a dynasty of artists and publishers that operated in Strasbourg, Augsburg, Lyon and Rome in the 16th and 17th century. This occasion is celebrated with a study day and an exhibition.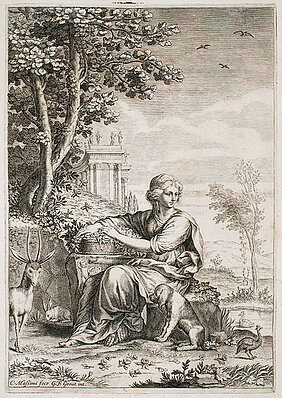 The Pudicitia ("modesty"), an early engraving of Matthäus Greuter from the Strasbourg period (Picture: Martin von Wagner Museum)
He was a renowned copper engraver and publisher: Matthäus Greuter, born in Strasbourg in 1566, founded a flourishing business in Rome. His workshop had an international focus and entertained an active cultural exchange with Germany and France. A lot of his printing plates, for instance, were sent back and forth between Rome and Augsburg.
Customers appreciated Greuter's work because of its outstanding quality and the master's diversity: Depending on his clients, he served different interests, portraying saints as well as architecture, city maps and any kind of book illustrations. Among others, Greuter made scientific illustrations for Galileo Galilei and engraved the first look at bees through a microscope.
Edition in New Hollstein German
For the first time, the Greuter print graphics are now documented in the works catalogue "The Greuter Family". The four-volume edition was published in "New Hollstein German", the most important scientific cataloguing project for early modern graphics worldwide.
The edition was compiled by art historian Jörg Diefenbach from Mannheim. The catalogue is published by Professor Eckhard Leuschner, Head of the Chair of Modern and Contemporary Art History at the Julius-Maximilians-Universität (JMU) Würzburg in Bavaria, Germany. "We invested more than five years of work into the project," says Leuschner, who is a member of the editorial board of New Hollstein.
Study day with presentations on 21st April
The new catalogue will be presented and commented on at a public study day on Thursday, 21 April, 13:30 to 18:00 in the JMU's Martin-von-Wagner Museum. The study day with presentations is also the inauguration day of an exhibition in the museum. Until 28 May 2016, it will showcase some 50 works of the Greuters and other contemporary artists from Würzburg inventory: They include printed graphics from the museum's own collection as well as illustrated books from the university library.
Curriculum of Matthäus Greuter
Matthäus Greuter (1566-1638) was born in Strasbourg where he started a career as a copper engraver aged 20. He printed pictures based on the models of other artists but also implemented his own ideas from the beginning. Around 1594, he went to Lyon, later to Avignon. In 1603, he moved to Rome which had a huge demand for visualisation and reproduction in all areas of art and science. Quickly, his workshop become one of the most productive and successful ones – a position he, his sons and grandsons would defend for more than half a century.
During the time, nearly all top-notch artists in Rome cooperated with the Greuter workshop, including Gianlorenzo Bernini, Guido Reni and Pietro da Cortona. The picture of the new St. Peter's Church was distributed throughout Europe predominantly by Greuter's engravings. Matthäus Greuter's map of Rome ("La pianta di Greuter"), published in 1625, is considered one of the most important engraved maps of Rome of the 17th century.
Matthäus Greuter proved himself as a highly adaptable "migrant artist" who successfully faced new challenges and circumstances in each of the places he worked. This makes him a model example for the current transcultural research in art history.
Thesis prints as a major work
"Thesis prints were an important product in the Rome-based workshop," Professor Leuschner explains. It was common back then to celebrate the final disputation of scientific works with a public event to which the personal sponsors of the work were invited, too. Thesis prints were handed out at these celebrations. They bore the title of the work and of the scientist, an allegoric picture of the thesis and the sponsor's coat of arms as a token of appreciation.
Other members of the Greuter family
Little-known Florian Greuter, probably the master's son, and the Strasbourg copper engraver Daniel Wittman, also worked temporarily in Greuter's workshop in Rome. After Greuter's death, his son Johann Friedrich continued the workshop. He had already worked with his father and grandson Joseph in the years before. The latter had specialised in portraits and title pictures.
"The Greuter Family" edition includes prints by Matthäus, Florian, Johann Friedrich and Joseph Greuter. Their works are complemented by those of Augsburg printer and publisher, Christoph Greuter, and of an anonymous artist, who always signed his works with the monogram MGF.
Link to the presentation agenda of the study day: http://arthist.net/archive/12591
Link to the New Hollstein homepage: http://www.hollstein.com/the-greuter-family.html
Contact
Prof. Dr. Eckhard Leuschner, Institute for Art History, University of Würzburg, Germany, Phone +49 931 31-85385, eckhard.leuschner@uni-wuerzburg.de