Data against climate change
08/23/2023
More cooperating businesses, higher funding, a new partner within the university: BigData@Geo is going into the second round and wants to use climate data to create concrete recommendations for action for businesses with a connection to nature.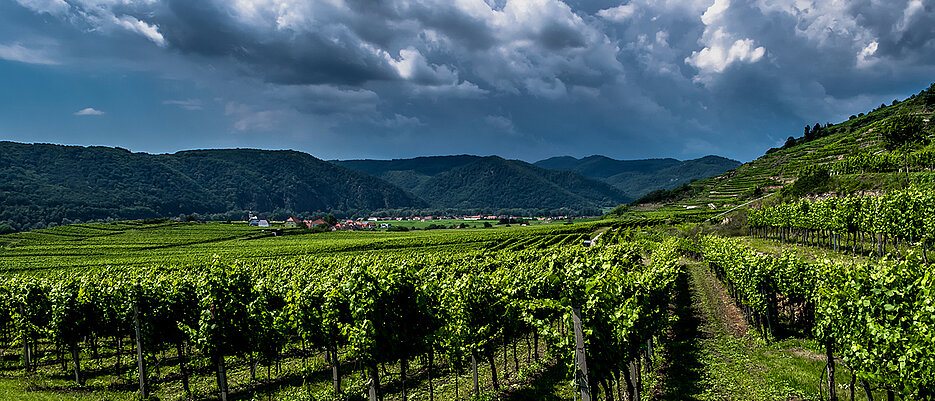 Climate change poses a particular challenge for agricultural and forestry businesses such as viticulture. BigData@Geo 2.0 wants to help companies master this challenge in the best possible way. (Image: iStockphoto.com / grafxart8888) (Image: iStockphoto.com / grafxart8888)
The Julius Maximilian University of Würzburg (JMU) has been working with small and medium-sized enterprises (SMEs) from the region in the BigData@Geo project since 2017. Whether wineries, forestry operations or fruit and vegetable growers, the participating businesses have one thing in common: they are particularly threatened by the effects of climate change.
To overcome these challenges, they also rely on solutions developed in the interdisciplinary project by researchers from geography and computer science. BigData@Geo 2.0 is led by Professors Andreas Hotho (Chair of Computer Science X) and Heiko Paeth (Chair of Climatology). Professor Stefan Dech from the Chair of Remote Sensing is a new member. The project is funded with almost three million euros from the European Regional Development Fund (ERDF).
How to respond to climate change?
Drier and hotter summers, heavy rainfall events, more frequent thunderstorms with more extreme effects. The consequences of climate change are omnipresent in Franconia as well and pose challenges especially to people who depend on nature for their work.
Over the past five years, climate models have therefore been created that can be used on as small a scale as possible and thus allow more precise evaluations. The results are freely accessible on the resulting website.
"In the first phase, it was important to test whether such a tool would be used at all and what information the companies actually need," explains Heiko Paeth. In the next five years, the climate indicators defined in this way will be transferred into economic indicators with the help of statistics and artificial intelligence (AI), which will show the effects of climate events on yield. This should also result in concrete recommendations for action, for example whether a change to certain grape varieties could minimise crop losses in wine.
From Lower Franconia to Northern Bavaria
To obtain even more comprehensive data, the project will be significantly expanded not only in terms of the number of farms, but also spatially.
The results of the first funding phase were so promising that the Bavarian state government wanted this expansion of the project area for BigData@Geo 2.0: "Of the original 16 farms, 13 are still involved, and 20 more are currently being added. We should be able to reach our target of 60 companies without any problems, given the positive feedback without exception," reports Heiko Paeth.
While the pilot project was still concentrated on Lower Franconia, the catchment area has now been extended to the whole of Northern Bavaria. The new partners include, for example, hop cultivation in Middle Franconia, coniferous forests at Lake Brombach, livestock farming in the Rhön or herb and vegetable farmers from Middle and Upper Franconia.
The researchers hope that the more data will lead to even more precise conclusions and forecasts: "We want to use insights into business books or the analysis of old newspaper articles on climate events to make the information more vivid and develop models that incorporate this data in concrete terms. The use of AI naturally saves a lot of resources in the collection and evaluation," Andreas Hotho knows.
One of the largest Bavarian ERDF projects
The costs of the project amount to more than seven million euros, almost three million of which come from ERDF, the rest is financed by own funds. The money will be used to create scientific positions in computer science, climatology and remote sensing.
"This is one of the largest Bavarian ERDF projects, which is why we are even hiring a project manager this time," says Heiko Paeth, pointing out the dimensions of the undertaking. Further funds are flowing into technology and infrastructure such as computers, storage capacity and drones, which remote sensing uses, for example, to create plant images.
The researchers were supported by the Service Centre for Research and Technology Transfer (SFT) during the submission and preparation of the project proposal. The SFT advises JMU researchers on applying for the European Funds ERDF and ESF. The term ERDF stands for European Regional Development Fund, ESF for European Social Fund. These funds are the EU's most important instruments for strengthening economic, social and territorial cohesion.
Contact
Prof. Dr. Andreas Hotho, Lehrstuhl für Informatik X, Tel: +49 931 31-88453, E-Mail: hotho@informatik.uni-wuerzburg.de
Prof. Dr. Heiko Paeth, Arbeitsgruppe Klimatologie, Tel: +49 931 31-84688, E-Mail: heiko.paeth@uni-wuerzburg.de
Additional images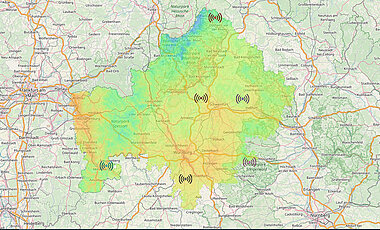 The climate atlas accessible on the project website presents various climate indicators.Here you can see a forecast of the mean temperature in Lower Franconia in summer for the years 2023 to 2052.(Image: bigdata-at-geo.eu) (Image: bigdata-at-geo.eu)