Crazy about biology
03/07/2017
Studying for a master's degree in biology at the University of Würzburg (Germany) in English? No problem: Taylor Stofflet from the USA loves the program.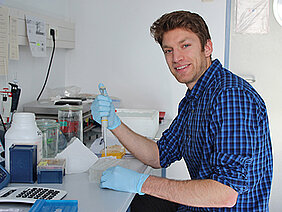 Taylor Stofflet, a master's student of biology, in a biophysics lab. (Photo: Lena Köster)
"I want to study in a foreign country, get to know a different culture and meet new people," – this is something students around the world dream of. But frequently, language prevents them from pursuing their dream.
For Taylor Stofflet from Wisconsin, however, this dream has come true: Thanks to the University of Würzburg's "BioEU Master of Science Programmes", Taylor can continue studying biology in his native language while exploring the Franconian culture.
To Würzburg because of science
What sparked the idea of studying at the University of Würzburg in Taylor Stofflet? The 26-year-old answers without hesitating: "Reading lots of scientific books about biology in my free time, I found out that several important scientists are from Würzburg such as Wilhelm Röntgen and Rudolf Virchow."
Wisconsin being home to many German immigrants, Taylor had already heard a lot about Germany. Once he had finished reading his books, he knew for sure: "I must go there."
He is enthusiastic about the "BioEU Master of Science Programmes" which the Julius-Maximilians-Universität Würzburg (JMU) launched nearly two years ago. All seminars and internship are in English. To be eligible for the programme, students need a bachelor's degree which Taylor Stofflet completed at the University of Wisconsin. The master's programmes are available in seven bioscience disciplines – Taylor opted for biophysics.
High standard of teaching
At present, the biologist-to-be is in his first semester of the master's programme. During the first six months, he participated in various laboratories to get an overview of the wide field of biophysics. In plant science, he studied for example how plants respond to heat, drought and other environmental stress factors. Among others, the master's students learn about general molecular biology techniques, protein biochemistry as well as methods of bioinformatics and system biology.
Besides his scientific curriculum, Taylor has enrolled in a German course for beginners. His goal is to improve his German language skills over the next semesters.
He is impressed by the excellent conditions the JMU provides: "The top-class seminars and the university's international network create an ideal environment for studying successfully," Stofflet further.
A great city for students
Stofflet, who is from Madison, is also excited about Würzburg as a university town: "Everything here is catered to students and you meet fellow students everywhere in the city." He particularly loved the Christmas season here with the traditional Christmas market being his favourite. "The German culture is great," Taylor says.
The University of Würzburg's International Office helped him settle in. "The mentors are there to help you with various tasks like registering in the town hall, taking out insurance or opening a bank account. But they also explain the main traditions and give you tips for things to do in your free time," the biology students tells us and he remembers that he first learned about the difference between Franconia and Bavaria in this way.
Relaxed studying
He can't think of any major differences between his home university in Madison and the University of Würzburg. He says that the laboratories and their equipment are quite similar.
But after a while, he does mention one key difference, namely tuition fees: "In the US, you often pay several thousand dollars for a single semester," he explains. So the biology student was very pleased to learn that he would have to pay just EUR 124.50 per semester in Würzburg: "This gives students more freedom." He therefore feels quite at home at the JMU. "I can study without pressure here," Taylor explains.
The American has several tips for other foreign students: "Enjoy the German beer, try a real Bavarian Weisswurst breakfast and don't miss the Christmas market in December. But above all: Use the opportunity of being in the heart of Europe and travel to other cities and countries," because Taylor appreciates the fact that unlike the US, Germany has a good railway network.
No firm future plans
Taylor doesn't know yet what to do after he has completed the programme. But he does have some ideas: "I would like to work in scientific communication later, for example as a scientific journalist. But I could also imagine working as a professor," the student says. At present, he is undecided as to whether he will return to America for this purpose.
The University of Würzburg's "BioEU Master of Science Programmes" taught in English: www.masterbiology.eu