Expansion of Ancient Near Eastern Studies
11/15/2021
Elisa Roßberger and Martin Gruber have been appointed to newly created junior professorships at the Chair of Ancient Near Eastern Studies. Both do research and teach in the field of Near Eastern Archaeology.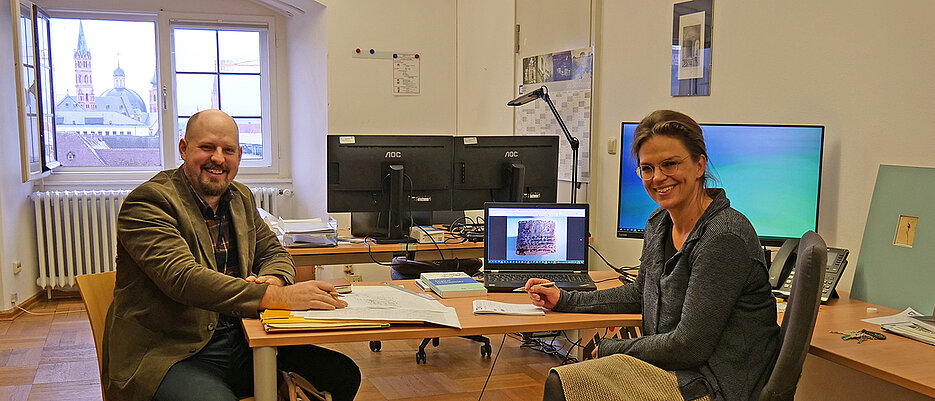 Martin Gruber and Elisa Roßberger strengthen the Chair of Ancient Near Eastern Studies at the University of Wuerzburg. (Image: Robert Emmerich / Universität Würzburg)
Research and teaching in Ancient Near Eastern Studies at Julius-Maximilians-Universität Würzburg (JMU) are being strengthened: as part of its strategic development, the Chair of Ancient Near Eastern Studies has raised funds for two new positions, both of which have been filled since autumn 2021.
Dr Elisa Roßberger has been appointed to a junior professorship in Digital Humanities for Near Eastern Archaeology and Ancient Near Eastern Studies, and Dr Martin Gruber to a junior professorship in Near Eastern Archaeology. Both are researching the evidence of ancient cultures in an area that stretches from present-day western Turkey to Afghanistan and from the Caucasus to the Arabian Peninsula. From prehistoric times to late antiquity, these cultures have shaped human history in many ways.
Digital Humanities for Near Eastern Archaeology and Ancient Oriental Studies
Elisa Roßberger grew up in the Chiemgau region, Bavaria. She studied Near Eastern Archaeology, Political Sciences and Ancient Near Eastern Studies at the LMU Munich, in Beirut and in Tübingen. Early on in her studies, she was able to participate in excavations in Jordan and Syria – from then on she was fascinated by the Ancient Near East and its cuneiform cultures.
As a PhD student, she commuted between Tübingen and Munich: At the LMU she was a fellow in the Research Training Group "Forms of Prestige in Ancient Cultures", and through the University of Tübingen she was involved in an excavation project in Qatna, Syria. In 2010, she completed her doctoral thesis in Tübingen.
As a research assistant and postdoc, Elisa Roßberger taught and conducted research at the University of Freiburg and at the LMU. There, she most recently headed a project funded by the German Federal Ministry of Education and Research (BMBF) in the eHeritage programme for the digitisation and the provision of digital data on cultural heritage objects.
She is continuing the BMBF project in Würzburg. It deals with Near Eastern cylinder seals – small cylindrical stone rollers that people in the Ancient Near East impressed on clay tablets, door and container closures. In this way, for example, house or land sales were legitimised. "Not only officials and institutions had seals at that time, but also a great many private individuals," explains the scientist.
Elisa Roßberger wants to make around 25,000 seals and their impressions on clay – consisting of pictures and cuneiform inscriptions – accessible using digital methods. For this purpose, two-dimensional scans and drawings are processed with special software and machine learning methods: Images and text elements in the scans are to be automatically recognised by computer and annotated with information about their contents. This procedure saves a lot of time, but manual checks by specialists remain essential.
One aim of this work is to trace interaction networks between people, images and things: which people used which seal motifs, how were they connected to each other? At the end of the project, in autumn 2023, a publicly accessible online platform will be published that offers the specialist community and the interested public a variety of opportunities to explore ancient sources and serves as a basis for further interdisciplinary research.
Elisa Roßberger teaches students how objects, images and find contexts from Near Eastern archaeology can be digitally accessed, linked with other resources and disseminated. The transfer of knowledge to the public is important to her: for example, she is planning seminars on digital storytelling and would like to realise virtual exhibitions with her students.
Weblink: Junior Professor Elisa Roßberger
Near Eastern Archaeology
Martin Gruber studied Ancient Near Eastern Archaeology, Assyriology and Prehistoric Archaeology at the LMU Munich, where he also completed his doctoral thesis within a DFG Research Training Group exploring "Forms of Prestige in Ancient Cultures".
During his student years he participated in many excavations in Germany and the Near East. After his PhD he received a research scholarship from the German Archaeological Institute Istanbul and worked as a team member in the long-term archaeological excavations in the Hittite capital Hattusha (Turkey) as well as in excavation projects in the Caucasus and Iraq.
He will continue his field research in Hattusha at JMU. Beginning in summer 2022 he will conduct excavations at one of its western city gates. "Geophysical prospections have revealed building remains nearby," says the researcher, "as a boundary between the city and its surroundings, the area in the vicinity of city gates is of particularly significance."
The excavation project in Hattusha will run for at least six years. It offers future generations of students possibilities to gain field experience and explore their own research topics. Of course, this also applies to Elisa Roßberger's projects: "We want to establish new Bachelor's and Master's programmes for Near Eastern Archaeology at JMU with a strong digital component," they announce. The first students will probably be able to enrol for the winter semester 2022/23.
Since 2020 another project of Martin Gruber is based in the Caucasus. It is funded by the Gerda Henkel Foundation and explores the material culture and chronology of a 3000 years old, long forgotten culture in Azerbaijan. It was discovered as early as the 19th century, when the first archaeological investigations were carried out in the course of the beginning mining exploitation by the Siemens company. At that time numerous graves were uncovered with rich bronze burial gifts and ceramic vessels as well as large barrows with chariot and horse burials.
"Until today, little is known about this culture," says Martin Gruber. Many finds are in Azerbaijani archives and museums awaiting their re-discovery. Therefore, his project, now also based at JMU, primarily aims to investigate local museums, but will hopefully soon include archaeological fieldwork as well.
Weblink: Junior Professor Martin Gruber
Tenure-track positions with funding
In both cases, these are tenure-track professorships. They are initially filled on a fixed-term basis, but are linked to a firm commitment from the outset: After a probationary period (two times three years, with interim review), there is a direct transition to lifetime professorships at JMU.
The Volkswagen Foundation (Hanover) is funding the two junior professorships with one million euros over the next six years. After that, the Academy of Sciences and Literature Mainz will finance half of one of the two positions as an Academy Professorship. Further financial support comes from the BMBF Tenure Track Programme.
Significant strengthening of Ancient Near Eastern Studies
Why do the two junior professorships strengthen Würzburg's Ancient Near Eastern Studies? Professor Daniel Schwemer, head of the JMU Chair of Ancient Near Eastern Studies, explains.
Point 1: Until now, Würzburg's Ancient Near Eastern Studies had a mainly philological focus. The important archaeological sister discipline was not adequately represented in research and teaching. The new junior professorships will change that. Both students and the other archaeological subjects at JMU (Pre- and Early History Archaeology, Classical Archaeology, Egyptology) will benefit from this. For them and many other subjects, such as the geosciences, this offers new opportunities for cooperation.
Point 2: Research at JMU Ancient Near Eastern Studies has strong digital components. Among other things, texts are edited digitally and innovative methods of computer-assisted 3D text recognition are developed. "Finding experts for this has been difficult so far," says Professor Schwemer. This is because the linking of computer science, philology and archaeology has hardly been part of the traditional study programmes in Ancient Near Eastern Studies. And the degree programmes for Digital Humanities do not usually prepare their graduates for the challenges that arise, for example, when dealing with cuneiform texts or the impression of seals on clay tablets. The Junior Professorship for Digital Humanities in Near Eastern Archaeology and Ancient Near Eastern Studies is intended to remedy this.