A future in Germany
03/14/2017
Pilar Endara from Columbia is studying for a degree in the English master's programme "Applied Earth Observation and Geoanalysis for the Living Environment". In this article, she tells us about her future plans.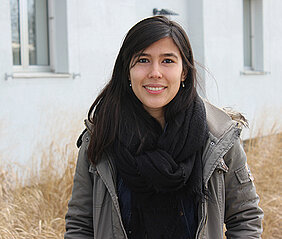 Pilar from Columbia has just completed her first semester of the EAGLE programme at the University of Würzburg. (Photo: Lena Köster)
"Why are you studying in Würzburg?" Foreign students give various answers to this question. Having already completed a bachelor's degree in biology and a master' degree in environmental research management, Pilar Endara from Columbia is nevertheless studying at the Julius-Maximilians-Universität (JMU) Würzburg in Bavaria, Germany. "I already learned plenty of theoretical knowledge in my two previous programmes. Now I want to gather some practical experiences," the 30-year-old student tells us in the interview.
Geography programme "EAGLE"
She found the ideal programme here in Würzburg with the "Applied Earth Observation and Geoanalysis for the Living Environment" master's programme at the Institute for Geography, short "EAGLE".
Under the umbrella term of "remote satellite sensing", the students analyse satellite data. Their focus is on biodiversity and agriculture. Here Pilar learns to recognize, forecast and resolve agricultural problems based on satellite images and various software programs.
Fourth year in Germany
A lot of students go abroad for one semester, but Pilar has already been in Germany for four years. Sponsored by a scholarship, she already studied in Frankfurt. In Munich, she participated in several intensive language courses to learn German. "That was really very difficult," says the Columbian who has become quite proficient in German in the meantime.
But she is still glad that the entire EAGLE programme is held in English. "We are about 15 students. One half is German, the other international," Pilar explains. She has just finished her first semester of the master's programme.
During the first half year, she and her co-students learned to work with the specific software programs. As the students starting the master's programme all have different bachelor's degrees, it is crucial to create a level playing field for them.
Different university systems
Are there any differences to her home university? "Not really," says Pilar who studied at a private university in Columbia. "The rooms, the library and the equipment are almost identical. But the University of Würzburg has one huge advantage for me: When I order lab material for research, it is delivered promptly, whereas at home I often had to wait for up to four months, as many products are only made in Europe," Pilar tells us As a result, many of her experiments were delayed.
Even though the equipment of the universities does not differ much, there is one big difference between the countries: the grading system. "Columbian universities are much more like schools," Pilar says. "We write plenty of tests during the semester which gives us the chance to compensate for a flunked test. Here in Germany, everything depends on one grade." This was the biggest adjustment for the Columbian in the beginning.
Also she had to get used to the German semester holidays: "In Columbia, we only have short periods off over the year. Only at the end of the year, do we have a longer break over the holidays," the 30-year-old student tells us. Students in Germany lead a different life than their Columbian counterparts. "The students here are very independent – they move to different cities to study. In Columbia you stay longer with your parents," Pilar explains.
PhD in Germany planned
Although she is far from home, the geography student still feels very much at ease in Würzburg. "Würzburg is a beautiful city; the architecture is breathtaking," she says with delight. In addition, the Columbian believes that Würzburg is exactly the right size; the distances are short and everything is located within easy reach.
When asked for her future plans, she answers that she would like to do her PhD. But she does not yet know where precisely. The EAGLE programme enables her to continue her academic career anywhere in Europe. "But I will probably stay here in Germany," says Pilar who wants to continue using her Germany language skills for a little longer. Afterwards, she is thinking of a career in research or working as a corporate consultant.
Until then, however, she has a good piece of advice for other foreign students: "Learn a lot and focus on your studies. But also take enough time to enjoy your stay abroad. There is a lot to experience: a new culture and so many international students on the campus."
The "EAGLE" master's programme (http://eagle-science.org/)