The mentoring program connects students, doctoral candidates or young graduates with working alumni of the University of Würzburg, who will support you with questions and problems concerning your professional development.
Would you like to know which the requirements of specific professions are?
Or what your chances in a certain industry are?
Would you be grateful if someone with experience could help you with your application, interview or contract negotiations?
Would you like to hear if your self-image matches the image you convey to the outside world?
Are you wondering whether it would make sense for your professional future to go abroad or do a doctorate?
Then register for the mentoring program of the University of Würzburg!
The aim of mentoring is to bring together students of the University of Würzburg (so-called "mentees") with experienced, working alumni (former students) or doctoral candidates (the "mentors"). This brings enormous advantages for both sides: the mentees benefit from the experience of their mentors, e.g. with regard to career planning, internships & dissertations, leadership and social skills. The mentor remains in contact with academic life through his or her participation; he or she first-handedly experiences current developments in teaching and research and can gain inspiration from them. In addition, the mentor trains his soft skills by supervising his mentee.
The tandems are made up on the basis of personality profiles submitted by the mentor and the mentee. However, only if both sides are satisfied with the matching and both participants have clarified their goals, wishes and expectations - only then the pair will become a firm tandem. The program is planned for 1 year, but this period can also be extended by mutual agreement.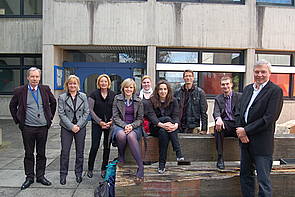 The framework of the program is a kick-off event, a kind of mentoring workshop, which serves to get to know and define the goals of the respective tandems. In the course of the year, the tandems get in contact - face-to-face, by e-mail or telephone - and sometimes the University of Würzburg organises excursions or social gatherings (wine festivals, etc.). At a closing event of the one-year programme each participant receives a certificate for his participation in the programme. The only obligation the tandems have towards those responsible for the programme is to prepare both an interim and a final report.
What is to be done to participate in the programme? If you would like to participate as a mentee, you must first register with the Alumni Portal to enter your profile, professional goals and ideas, so that we can find the right mentor for you, who will support you for at least one year. Register now! Jetzt anmelden!