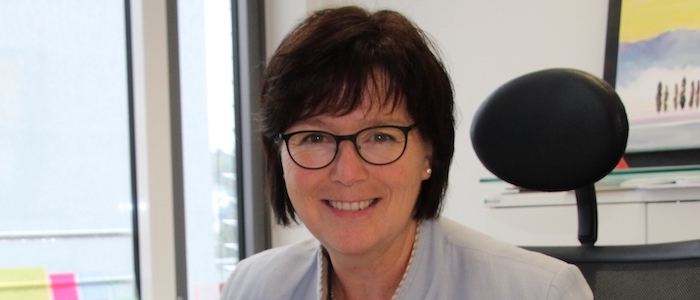 Saarland University

Experimental Physics and Center for Biophysics
Campus E2 9, 4th floor
D-66041 Saarbruecken
...studied physics at Constance University, Germany. Having spent earlier career stages as a postdoc at the Max-Planck-Institute for Colloid and Interface Research in Berlin/Golm, a research assistant at Ulm Universtiy, a project leader at Bayer AG in Leverkusen, and several stays abroad in Israel and Australia, she took up a chair in experimental physics at Saarland University in 2002. She has been a 3y-Fellow of the Leibniz Institute for New Materials INM in Sarbrücken since 2014. She coordinated a priority program of the German Research Foundation DFG focusing on microfluidics and is a panel and research member of the DFG collaborative research center SFB 1027, which is devoted to biophysical research topics. In April 2015, she was elected as a member of the Academy of Sciences and Literature | Mainz and in 2022, a member of the Göttingen Academy of Sciences. Since summer 2021, she also acts as Vice President of the German Science foundation.
2009- Professor (W3) for Experimental Physics, Center for Biophysics, Saar­land University, Saarbrücken, Germany
2003-08 Professor (C3) for Experimental Physics, Saar­land University, Saar­brücken, Germany
2001-02 Project Leader at Central Research Department, Bayer AG, Leverkusen, Germany
1999-00 Ass. Professor (Hochschulassistentin C1), Dpt. of Applied Physics, Ulm University, Ulm; Germany
1997-98 Postdoc at MPI for Colloids and Interfaces, Berlin-Adlershof (now in Potsdam/Golm), Germany, Prof. Dr. H. Möhwald / Prof. Dr. S. Herminghaus
1992-97 Scientific Employee (PhD), Experi­mental Physics, Konstanz University and Guest Scientist at The Weizmann Institute of Science, Rehovot, Israel, Prof. Dr. J. Klein
Other activities
since 2021 Vice president of the German Research Foundation
since 2018 Fellow of the Max-Planck-School Matter to Life (Heidelberg, Göttingen, München)
since 2017 Member of the Expert Commission of the Excellence Strategy of DFG and Wissenschaftsrat
since 2016 Member of the German Council of Science and Humanities of the Federal Republic of Germany (Wissenschaftsrat), within there, Chairwoman of the Evaluation Commission
since 2015 Member of the Scientific Committee of the Excellence Programm LOEWE of Hesse
since 2013 Scientific Member and Member of the Board of the Collaborative Research Center CRC 1027 "Physical modelling of non-equilibrium processes in biological systems", Saarland University, Saarbrücken
Karin's research subjects span from functionalising surfaces and tailoring wetting properties to the analysis and control of adhesion and biofilm formation. She and her team try to identify general physical rules to explain biophysical phenomena, often in close collaboration with teams in microbiology or in theoretical physics. Laboratory techniques include atomic force microscopy (AFM) in many modes of operation, and another main focus is force spectroscopy, e.g. with single bacterial cells or – as in this consortium – with a living parasite. By AFM, ellipsometry, photoelectron spectroscopy (XPS) as well as other physico-chemical analysis techniques, we can contribute to a fundamental understanding of complex (bio-)physical systems, carefully tuning the parameters, yet without losing the biological function. Microfluidic setups can be used to help mimic the biological system.
This research is part of Project 1 of the SPP 2332 PoP.