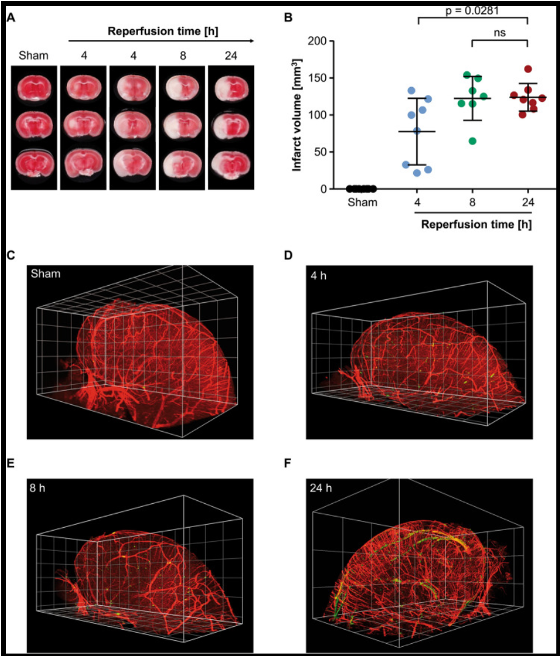 Cerebral thrombosis is not causative for secondary infarct growth during ischemic stroke
Here, we combine the model of transient middle cerebral artery occlusion (tMCAO) with light sheet fluorescence microscopy and immunohistochemistry of brain slices to investigate the kinetics of thrombus formation and infarct progression. Our data reveal that tissue damage already peaks after 8 h of reperfusion following 60 min MCAO, while cerebral thrombi are only observed at later time points.
Publication: Infarct growth precedes cerebral thrombosis following experimental stroke in mice.Göb V, Voll MG, Zimmermann L, Hemmen K, Stoll G, Nieswandt B, Schuhmann MK, Heinze KG, Stegner D.Sci Rep. 2021 Nov 24;11(1):22887. doi: 10.1038/s41598-021-02360-6
Further reading on vascular brain imaging:
Platelet glycoprotein V spatio-temporally controls fibrin formation.Beck S, Öftering P, Li R, Hemmen K, Nagy M, Wang Y, Zarpellon A, Schuhmann MK, Stoll G, Ruggeri ZM, Heinze KG, Heemskerk JWM, Ruf W, Stegner D, Nieswandt B.Nat Cardiovasc Res. 2023 Apr;2(4):368-382. doi: 10.1038/s44161-023-00254-6. Epub 2023 Mar 23.
Blockade of Platelet Glycoprotein Ibα Augments Neuroprotection in Orai2-Deficient Mice during Middle Cerebral Artery Occlusion.Bieber M, Schuhmann MK, Bellut M, Stegner D, Heinze KG, Pham M, Nieswandt B, Stoll G.Int J Mol Sci. 2022 Aug 22;23(16):9496. doi: 10.3390/ijms23169496.
Thrombopoiesis is spatially regulated by the bone marrow vasculature.Stegner D, vanEeuwijk JMM, Angay O, Gorelashvili MG, Semeniak D, Pinnecker J, Schmithausen P, Meyer I, Friedrich M, Dütting S, Brede C, Beilhack A, Schulze H, Nieswandt B, Heinze KG.Nat Commun. 2017 Jul 25;8(1):127. doi: 10.1038/s41467-017-00201-7.