Erfolgsgeschichte in der Lehrerbildung
11/22/2022
Vor fünf Jahren wurde an der Julius-Maximilians-Universität Würzburg die "Professional School of Education (PSE)" gegründet. Mit ihrer Hilfe erhält die Bildungsforschung in Würzburg neue Impulse.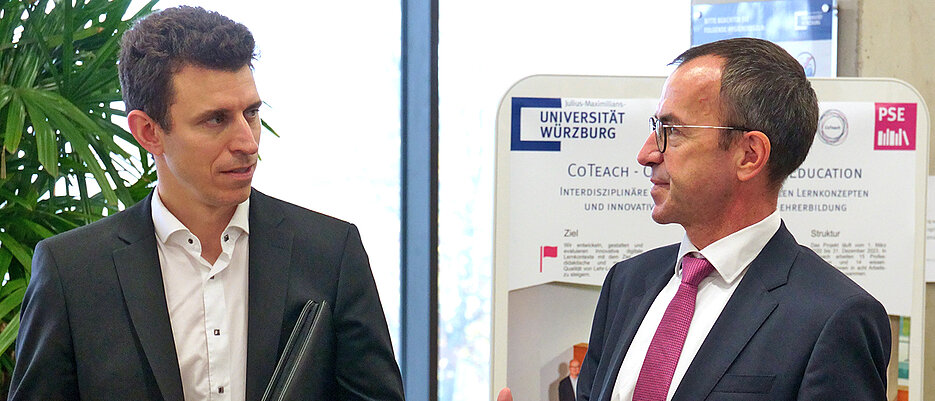 Thomas Trefzger, Direktor der PSE (rechts) im Gespräch mit Christian Hübler vom bayerischen Kultusministerium. (Image: Jörg Fuchs)
"Die PSE ist in ihrer Funktion als zentrale Anlaufstelle der Universität Würzburg für alle Fragen und Belange rund um das Lehramtsstudium eine Erfolgsgeschichte", resümierte Professorin Caroline Kisker. Eine Einschätzung, die vom Publikum sowie den zahlreichen Teilnehmerinnen und Teilnehmern der Jubiläumsfeier zum fünfjährigen Bestehen der PSE ausnahmslos geteilt wurde.
Als eines der vielen wegweisenden Projekte der PSE porträtierte die Vizepräsidentin der Julius-Maximilians-Universität "Connected Teacher Education" (CoTeach). Das vom Bundesministerium für Bildung und Forschung (BMBF) geförderte Projekt wende digitale Lehre nicht nur an, sondern stärke die Kompetenzen von Studierenden und Dozierenden bei der Digitalisierung und steigere die didaktische sowie methodische Qualität von Lehr-Lern-Prozessen.
Dazu konzeptioniere, gestalte und evaluiere CoTeach innovative digitale Lehr- und Lernformate unter interdisziplinärer Verknüpfung von bildungswissenschaftlichen, medienpädagogischen, fachdidaktischen und informatischen Perspektiven.
Wissen bündeln – Kompetenzen stärken
"Die Professional School of Education beseitigt das Nebeneinander von Erziehungswissenschaften, Fachdidaktik und Fachwissenschaften", unterstrich Regierungsdirektor Christian Hübler vom Bayerischen Staatsministeriums für Unterricht und Kultur in seinem Grußwort in Vertretung von Staatssekretärin Anna Stolz auf der Festveranstaltung am 12. November im Hörsaalgebäude Z6.
Um dieses Ziel zu erreichen, wurden die ersten Phasen der Lehrerbildung stärker miteinander verzahnt und der Kontakt zwischen Schulen und Universität ausgebaut. "Das PSE ist ein wichtiger Baustein dafür, dass das Lehramtsstudium und der Lehrerberuf weiterhin attraktiv bleiben und noch attraktiver werden und dass junge Lehrkräfte an Schulen kommen, die über eine moderne und qualitativ hochwertige Ausbildung verfügen", unterstrich Hübler.
Ein gutes Vorbild
"Die fünf Jahre seit Gründung der PSE sind schnell vergangen", blickte die Schulentwicklungsberaterin Doris Grimm von der Regierung von Unterfranken auf den Anlass des Jubiläums zurück. "Aber die Zeit wurde gut genutzt: Die anfangs kleine Pflanze ist kräftig gewachsen und hat neue Zweige ausgetrieben."
"Die PSE war in Unterfranken in diesem Bereich Vorreiter, und es gibt inzwischen einige Nachahmer – was uns natürlich sehr freut", so die Leitende Regierungsdirektorin. "Vonseiten der Schulaufsicht begleiten wir gerne und mit großem Interesse die Vorhaben, Projekte und Veranstaltungen der PSE."
Zahlreiche erfolgreiche Projekte
Seit seiner Einrichtung im Jahr 2017 konnte die PSE dank umfangreicher Drittmittelförderungen viele Projekte für eine innovative Lehrerbildung an der JMU realisieren. Dazu zählt das vom Bayerischen Staatsministerium für Wissenschaft und Kunst geförderte Projekt DigiLLabs@JMU, das Lehren und Lernen anhand digitaler Medien im Unterricht interdisziplinär erforscht.
Ein weiterer Fokus der PSE liegt auf der Internationalisierung der Lehrerausbildung, beispielsweise im vom BMBF geförderten Projekt "Global Teacher Education" (GoTEd). Lehrkräfte gewinnen durch Auslandsaufenthalte und mehrsprachige Lehrveranstaltungen interkulturelle Kompetenzen. "Wer Anderen die Welt erklärt, sollte sie selbst gesehen haben", so Professor Thomas Trefzger, der Direktor der PSE. Dahinter steckte der Gedanke, dass es hilfreich sei, wenn Lehrkräfte Auswirkungen globaler Entwicklungen auf die Gesellschaft vor dem Hintergrund ihrer eigenen Erfahrungen einzuordnen wüssten – und dieses auch vermitteln könnten.
"All unsere Aktivitäten zeigen, dass die Akteure der Lehrerinnenbildung aus allen Bereichen, sowohl auf wissenschaftlicher als auch auf administrativer Ebene, miteinander an einem gemeinsamen Ziel arbeiten", so Trefzger. Das gemeinsame Engagement führt seinen Worten nach zu einer Erfolgsgeschichte, die sicherlich noch lange fortgeschrieben wird.
Back