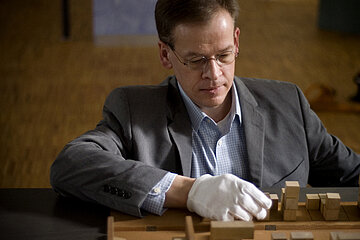 Armin Stock is a well-educated psychologist who experienced an early imprint in experimental psychology, feels at home in it, yet remains open to theoretical, pragmatic and application-based approaches. Already at the beginning of the nineties his interest in the history of psychology awoke, awakened by an exhibition of the Institute for the History of Modern Psychology at the University of Passau. Over the years, this interest has grown and has received a first high point with a largely psychology-historical habilitation thesis. Armin Stock was able to pursue the pleasure of applying psychology from an application point of view and publicizing her findings to the public through two substitute professorships in work and organizational psychology at the University of Würzburg, through years of external funding projects with industry and through the initiation of a professional TV series to live out fields of activity of psychologists and finally through the reshaping of the telecolluting psychology. In 2004 he was awarded the prize for science journalism of the German Psychological Society. Since 2008, Armin Stock has headed the Adolf Würth Center for the History of Psychology.
Phone: ++ 49 - 931 - 31-82620
Fax. ++ 49 - 931 - 31-88685
E-Mail: Armin.Stock@uni-wuerzburg.de
---
---
---
Esther Gildemann Dipl.-Rest. (FH)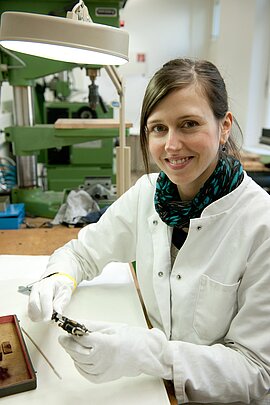 Esther Gildemann grew up in Wolfsburg and graduated in 2002. Directly afterwards, she successfully completed a three-year goldsmith training at the State Vocational School for Glass and Jewelry in Neugablonz. On this foundation of craftsmanship Mrs. Gildemann put on the study of metal preservation and restoration at the University of Applied Sciences Potsdam on it, which she graduated with the degree of a diploma restorer (FH). During her studies she completed several months of internships at prestigious metal conservatories in Braunschweig, Berlin and Vienna.
Phone:++49 - 931 - 31-86624
Fax. ++49 - 931 - 31-88685
E-Mail: esther.gildemann@uni-wuerzburg.de
---