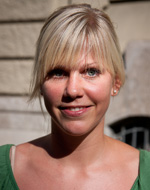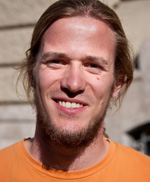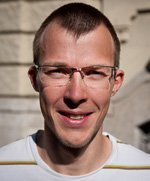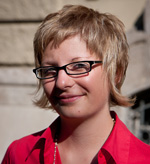 Würzburg is the place to go!
While she was still at school, Elisabeth Lemp knew that she wanted to go to Würzburg. She was doing a practical in a special needs school in Hesse. When she told them that she wanted to study Special Needs Education, they all told her: "Würzburg, you have to go to Würzburg." So it is no wonder that the student from Gießen has made the city with the baroque Residence her new home.
Plenty of practice
What Elisabeth likes about her degree course is that it is combined with plenty of practice. Students of Special Needs Education do seven different practicals during their course of study. Elisabeth enjoyed them very much. "For us it is really important to gain hands-on experience." If the 24-year-old works in a special needs school later on, it is her experience which will count as well as the theory.
In her degree, theory and practice are about half and half. "It is really well-balanced," Elisabeth says. "And the quality of the teaching is really high."
Subjects students can take
In Würzburg students can take the subjects Education for learning difficulties, Education for physical disabilities, speech therapy education, Education for mental health disabilities and Education for behavioural difficulties. In addition to the chosen special subject, there are classes in educational theory and teaching methods for individual school subjects.
"It is a very broadbased degree," Elisabeth thinks, and she likes that. Her course has become more diverse. There has been a great increase in the number of subjects on offer in Special Needs in the last few years."
Follow your inclinations
Just a question of passing exams? Certainly not as far as Elisabeth is concerned. She follows her inclinations and strengths and now that she has completed the basic studies, she can concentrate on subjects that really interest her. One of the seminars she attended, for instance, was called "Recreational activities for schoolchildren with learning difficulties," which is not a compulsory subject. She took the class anyway and is pleased she did.
By the way, Elisabeth went back to Hesse for one of her placements. Her supervisors did not want her to leave again, they were so pleased to have someone with such a thorough training as the Special Needs students are given in Würzburg.
Traugott Böttinger: "I developed an interest in Special Needs Education doing my alternative national service in Argentina and came to Würzburg through my sister. She had started her degree in Munich and was always complaining about how over-crowded it was there in Special Needs Education. It is a huge advantage being in a smaller university like Würzburg. Anyway, Würzburg is a really beautiful city for students to be in. I can be down at the river or out in the countryside in no time at all. And there are plenty of cultural activities here, too."
Franz Mader: "Why do I particularly like Special Needs Education in Würzburg? A great deal of my course involves diagnostics, which has a lot to do with psychology. Both departments are in the building in Wittelsbacherplatz. That is a real advantage. To begin with I had no idea where the lecture rooms were. At the "Wittel" you can just ask someone in the corridor and they will show you the way. It is really handy to have everything in one building."
Melanie Rösch: "I had the choice of Munich or Würzburg. Those are the only universities in Bavaria offering Special Needs Education. I decided in favour of idyllic Würzburg and have not regretted it for a moment. The city has its own aura, I noticed that from the first day. When I look at my study environment and opportunities here, I would choose Würzburg all over again. Some of the buildings are being beautifully restored and modernised, and the venerable old Wittelsbacherplatz has its unique style."