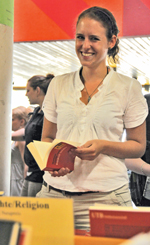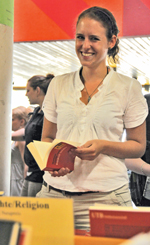 Books and PCs
German Studies und Digital Humanities: That is the course combination Jenny Poser decided to register for at the University of Würzburg.
Digital what? This degree course has existed here since winter semester 2009/10 and Jenny is one of the first students to take this subject. Digital Humanities forms a bridge between the humanities and the new technologies.
The course includes the digitalisation and editing of texts, pictures and maps to provide easily accessible data to answer questions raised in Arts and Humanities research. A successful degree can lead to a career in the print or electronic media, where the graduate can take on organisational, consultancy and management tasks. There are also jobs in research, journalism, public relations and advertising.
"I would like to work in a publishing company once I have finished. Then it's not a bad idea to know about online media," says Jenny to explain her choice of subject. She particularly values the variety provided by this subject combination: reading a lot for German, plenty of hands-on experience in Digital Humanities.
Inter-disciplinary course
She also likes the fact that her course is very inter-disciplinary. "We can take classes in other Arts subjects and the credits obtained there count towards our degree." It is a good opportunity to improve one's general knowledge, she finds. That is always useful for a potential editor.
Simply a beautiful city
To take this course, Jenny moved specially from Karlsruhe to Würzburg. "Würzburg is simply a beautiful city", she says. And she really loves the university campus. "You could not dream of a better location, with this view over the old town to the fortress." When she heard she had been allocated an apartment in a newly-renovated student hall of residence close to the campus, she was more than delighted.
Study in Würzburg? "Most certainly," says Jenny Poser. The German Department is great, the lecturers are really nice and the town: "simply fantastic!"