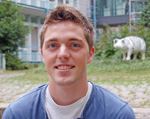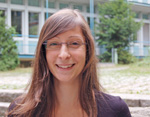 Keen biologists
Zoology, Botany, Ecology and Tropical Biology, then Biochemistry, Bioinformatics, Cell and Development Biology, Microbiology, Genetics and more: the variety of subjects offered by the Würzburg Biology Department is tremendous.
David Fecher and Daniela Pezzetta are delighted with the choice. Both have already completed their Bachelor and of course they want to do their Master in Würzburg as well, where else?
Interlinked with other disciplines
What made David decide on Würzburg? "I had a look at the university rankings and Biology in Würzburg comes out very well. Then I went to the open days and saw for myself what a wide range of subjects there is here and how well research in the Biology Department is interlinked with other disciplines, for instance, Medicine."
It suited David down to the ground, because he has always found Biomedical research particularly exciting. He took Virology early on, in the fourth semester and he did his Bachelor dissertation in the same field, on genetic activity in retroviruses.
"In Biology in Würzburg you can try out lots of different areas and find out what you are most interested in," says Daniela. She herself had set her sights on Neuro-Biology at first. "But then I saw that plants are more interesting than I thought." That is why she did her Bachelor dissertation in Pharmaceutical Biology, on the question of how plants defend themselves against pathogenic bacteria.
Daniela says: "The great thing about Biology, apart from the variety, is the choice you have as a student. You can start to specialise as early as the fourth semester and work on your own in the research labs."
Personal and individual
Of course, you do not work without supervision – and here Daniela sees one of the great advantages of Würzburg: even in the large practicals at the beginning of the course, there is one supervisor for every five students, later the groups are even smaller. It is all very personal and individual.
"When you start your course, you are guided through the first few months, and that is a huge advantage," Daniela and David agree on this. They are both members of the Biology student council which represents the interests of the students. The Student Council organises the Freshers' Week for new students together with the academic staff, for example. They are also the best people to talk to if you are thinking of doing Biology in Würzburg.