Werde Multiplikator:in - Workshops & Lehrveranstaltungen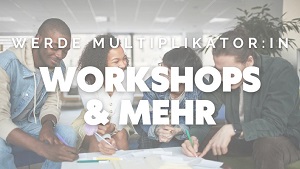 Du willst Themen wie Nachhaltigkeit, soziale Gerechtigkeit oder Gesundheit in deinen Unterricht mit innovativen Methoden einbinden, weißt aber nicht wie?
Be the change, become a changemaker
Dann nimm an den unterschiedlichen (Lehr-) Veranstaltungen teil und lasse dich zum/zur Multiplikator:in sozialunternehmerischen Denkens und Handelns ausbilden (und sammle nebenbei ein paar ECTS-Punkte im Freien Bereich).
Hier findest du Infos zu
unseren Workshops

Lehrveranstaltungen
Um nichts zu verpassen, empfehlen wir dir den Newsletter zu abonnieren und unseren Social-Media-Kanälen (@gruenden_uniwue) zu folgen!