University of Würzburg considers it a central task to provide its scientific staff with a well-structured, needs-based program of supports and services to enhance their professional development and career opportunities. In 2016, the university set down its strategy, aims and principles of professional development within aconceptual framework for general staff development at JMU. This foundation was enhanced and specialized by an academic staff development concept in 2017. It is the mission of JMU Research Academy to put the concept of academic staff development into practice.
JMU Research Academy is responsible for researchers of all career levels at the University of Würzburg. The definition of career level is geared to the Framework for Research Careers, which has been developed by the EU commission.
Our offers accordingly aim at:
First Stage Researchers: researchers working on their doctorate (R1)
Recognised Researchers: researchers at an early postdoc stage (R2)
Established Researchers: researchers at a more advanced postdoc stage (R3)
Leading Researchers: researchers with a professorship (R4)
JMU Research Academy aims to achieve the following objectives:
Junior scientists who decide on an academic leadership or specialist career are offered specific support at all stages of their qualification.

Junior scientists who decide on a career outside academia get early support in identifying and pursuing alternative career paths into industry, culture and society.

Researchers at all career levels can use a comprehensive program to develop interdisciplinary skills relevant to their career. To this end, JMU Research Academy is closely cooperating with university institutions which already provide support offers for the scientific staff.

Researchers can call for individual support at appropriate to their work situation at the university, particularly with a focus on leadership and supervision.
JMU Research Academy orientates its acting to the following principles:
Networking: Numerous institutions of JMU have already been active in academic staff development (asd) for many years (ProfiLehre, Office of the Women's Representative, SFT, RAC etc.). JMU Research Academy fosters close cooperation with them in order to exploit and produce synergies. To guarantee a constant advancement progress of the asd measures, the representatives of all institutions have set up a task force for academic staff development.

Dialog: JMU Research Academy seeks the exchange with the faculties and departments of the university to identity existing demands as well as favored topics and formats in asd. It constantly tries to meet those demands and to integrate new formats into its program.

Need-based: Asd measures address researchers at different qualification and career levels with career perspectives in academic as well as industry and society. As, accordingly, the demands are manifold, the offers of the JMU Research Academy are differentiated and tailored to each target group.

Gender and diversity equity: To promote equal opportunity JMU Research Academy aims at integrating gender and diversity as important cross-sectional topics into the range of its service.

Multifaceted: JMU Research Academy realizes its program in a wide range of formats: focus 2-hour-sessions are provided as well as programs with a duration of 12 to 18 months. Cross-disciplinary training, individual or group coaching, expert counseling or a mentoring program are to be seen as answers to the different demands of a heterogeneous and interdisciplinary target group.

Self-responsibility: All offers are optional and reside with the principle of self-responsibility. Researchers choose independently, which service they consider helpful and when to make use of it. On demand, JMU Research Academy offers individual counseling in order to define personal development goals and strategies.

Quality assurance: To ensure quality and to optimize all asd offers sustainably, asd measures for researchers are continuously evaluated and customized.

Multidimensionality: Asd measures act on an individual and organizational level and thus strengthen the individual as well as the university from within.
JMU's competence model for the scientific staff provides the conceptual basis for the academic staff development measures at the University of Würzburg. At the same time, it can be used as an instrument of individual career planning. On the basis of this model researchers can – together with superiors, supervisors and mentors – perform a self-assessment of their skills and define personal development goals and steps.
The competence model defines four dimensions of development relevant for an occupation in the scientific domain. Each of the four dimensions is differentiated into additional requirements areas, which in turn, represent a certain set of skills. Depending on different phases of qualification and career levels researchers possess skills at different levels accordingly.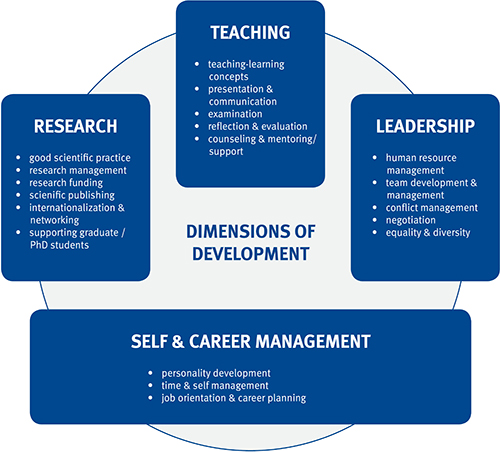 As to content and structure the JMU competence model is patterned on the Researcher Development Framework, originated in Great Britain, albeit with some modifications. As the scientific staff's range of tasks covers – in addition to the core area of research – the realms of teaching and leadership/management. The JMU competence model further strengthens and differentiates both these dimensions. Furthermore, the focus of JMU Research Academy is on training multidisciplinary skills.
The portfolio of asd measures is subdivided as follows:
Training: The ample offer of trainings brings together events of all university institutions within the realm of academic staff development and covers the four development dimensions of the JMU competence model. Choosing individually among the different courses and consecutive in-house training modules, researchers can actively develop their multidisciplinary skills.
to the events

Counseling & Coaching: Scientists of JMU receive qualified counseling in various performance areas of the university focusing on a transmission of information by experts. To that end, JMU Research Academy procures the contact with qualified contact persons within the university. Furthermore, researchers can make use of individual support with a specific development request. Typical reasons for coaching are: job orientation and career planning, difficulties with the daily job routine, motivational problems in periods of qualification etc.
Further information on coaching

Networking & Mentoring: To promote networking and cooperation within the university and beyond, JMU Research Academy organizes events bringing together relevant actors for various topics. The mentoring that is realized in close cooperation with the alumni office of JMU brings together postdocs or doctoral researchers in their final stage with experienced national and international scientists as well as executive staff from industry and society.
Further information on mentoring

Dialogs about strategy & development: In order to firmly entrench the dialog between mentees and mentors as well as staff and superiors as a natural part of academic qualification and cooperation, JMU Research Academy offers specific workshops for different target groups and provides information (on topics like mentoring for doctoral students, employee dialog etc.)