Wenn die Taufliege zum Bruchpiloten wird
03/16/2006
Bericht in der neuen Ausgabe des US-Fachblattes "Neuron": Im Nervensystem der Taufliege haben Genetiker vom Biozentrum ein neues Protein entdeckt. Wenn es fehlt, hat das massive Folgen: Die Insekten laufen kaum noch umher und können nicht mehr richtig fliegen. Weil sie dann oft regelrechte Bruchlandungen hinlegen, haben die Forscher das Protein auf den Namen Bruchpilot getauft.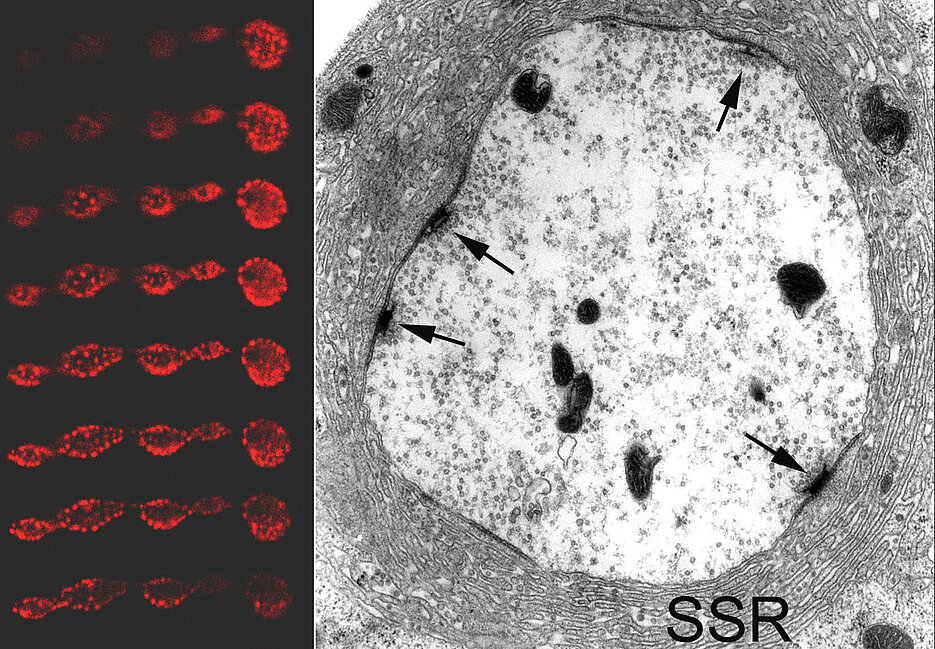 Rechts ein Ultradünnschnitt durch das Endköpfchen einer Synapse der Taufliege: Die Pfeile weisen auf die schwarzen T-förmigen Strukturen, für deren Ausbildung das neu entdeckte Protein Bruchpilot benötigt wird und deren Funktion noch unbekannt ist. Links mehrere optische Schnitte durch synaptische Endköpfchen, die T-förmigen Gebilde sind als rote Punkte sichtbar gemacht. Bild: Erich Buchner
Wie Professor Erich Buchner erklärt, wurden die meisten Proteine des Nervensystems in der Evolution nur einmal erfunden und dann beibehalten. Sie sind also beispielsweise bei Fliegen, Mäusen und Menschen sehr ähnlich. "Wir erforschen diese Proteine bei der Taufliege, interessieren uns aber natürlich auch für ihre Funktion beim Menschen", sagt Buchner.
Die Studien an dem Insekt können so durchaus Bedeutung für die Medizin erlangen. Der Genetiker nennt dafür ein Beispiel: Vor 15 Jahren fanden die Würzburger Wissenschaftler bei der Taufliege ein Protein mit zunächst unbekannter Funktion. Vor kurzem nun haben Forscher in den USA herausgefunden, dass dieses Protein höchstwahrscheinlich bei der Parkinson-Krankheit eine Rolle spielt.

Auch das Protein Bruchpilot kommt in ähnlicher Form beim Menschen vor; über seine Funktion dort weiß man nichts. Ob es ebenfalls mit einer Erkrankung zu tun haben könnte, darüber sind laut Buchner zum jetzigen Zeitpunkt noch keine Spekulationen möglich. Zunächst einmal soll das neue Protein bei der Taufliege genauer charakterisiert werden. Außerdem suchen die Forscher nach anderen Proteinen, die mit Bruchpilot in Wechselwirkung treten. "Eine heiße Spur haben wir schon", verrät der Genetiker.

Bruchpilot kommt im Nervensystem an den Synapsen vor, das sind die Kontaktstellen zwischen Nerven oder zwischen Nerven und Muskeln. An diesen Orten werden auf einen Nervenimpuls hin Botenstoffe ausgeschüttet, die den Impuls von Nerv zu Nerv oder zum Muskel hin übertragen.
Bei Taufliegen, denen das Bruchpilot-Protein fehlt, ist die Ausschüttung der Botenstoffe an den Synapsen stark verringert. Das berichten die Würzburger Forscher zusammen mit der Arbeitsgruppe von Professor Stephan Sigrist aus Göttingen in der US-Fachzeitschrift "Neuron".
Der Mangel an dem Protein lässt sich auch im Elektronenmikroskop erkennen, wie Professor Esther Asan vom Würzburger Institut für Anatomie und Zellbiologie in Kooperation mit den Genetikern nachgewiesen hat: Dann nämlich fehlen der Fliege an all ihren Synapsen charakteristische T-förmige Strukturen, die in gleicher oder ähnlicher Form auch in den Nervensystemen anderer Organismen auftauchen. Laut Buchner sind diese Gebilde immer sehr proteinreich. Doch ihre genaue Funktion ist bislang unbekannt.

Wagh, D.A., Rasse, T.M., Asan, E., Hofbauer, A., Schwenkert, I., Dürrbeck, H., Buchner, S., Dabauvalle, M.-C., Schmidt, M., Qin, G., Wichmann, C., Kittel, R., Sigrist, S.J., and Buchner. E.: "Bruchpilot, a protein with homology to ELKS/CAST, is required for structural integrity and function of synaptic active zones in Drosophila", Neuron vom 16. März 2006, Vol. 49, Issue 6, Seiten 833 - 844.

Weitere Informationen: Prof. Dr. Erich Buchner, T (0931) 888-4478, Fax (0931) 888-4452, E-Mail:
buchner@biozentrum.uni-wuerzburg.de