Zwischen Natur und Urbanität
12/18/2018
Das Martin von Wagner Museum der Universität Würzburg zeigt Gemälde von Michael Markwick. Der Künstler spürt Energien auf, die aus den Grenzgebieten zwischen Natur und Urbanität hervorgehen.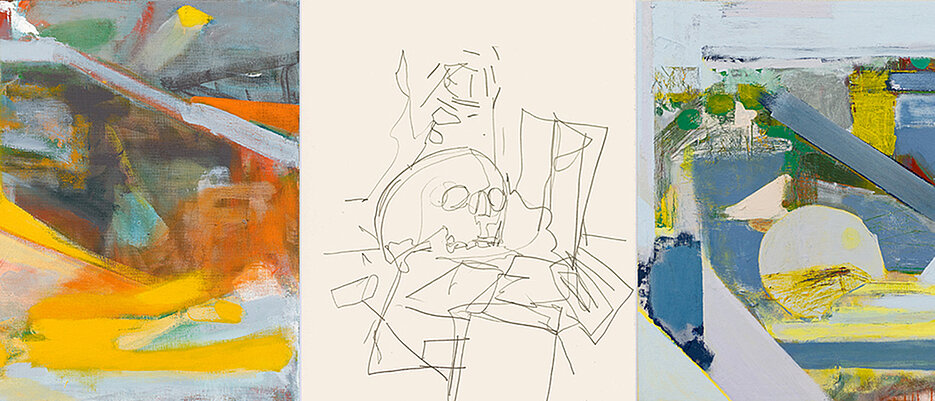 Drei Werke von Michael Markwick. (Image: Michael Markwick)
Der amerikanische Maler Michael Markwick lebt und arbeitet in Berlin. Er führt auf hoch originelle Weise den abstrakten Expressionismus seines Heimatlandes mit einem tiefen und ernsten Interesse an den Alten Meistern Europas zusammen. Für die Würzburger Ausstellung hat er unter anderem ein barockes Stillleben aus dem Martin von Wagner Museum der Julius-Maximilians-Universität Würzburg in Malerei und Zeichnung neu interpretiert.
Markwicks auch im materiellen Sinne vielschichtige Kunst erkundet Grenzgebiete zwischen Naturraum und Urbanität und spürt die Energien auf, die aus diesen Zwischen-Räumen hervorgehen. Seine wie von innen her strahlenden Gemälde offenbaren grundlegende Strukturen im Bauplan der Natur, aber auch die zivilisatorischen Eingriffe, die nicht mehr von der Natur zu trennen sind. Markwicks Grundthema ist die fundamentale Unbeständigkeit des Daseins, die in seinen Gemälden aufgefangen wird vom Reichtum des Lebens in seiner wogenden Kraft und Ruhe.
Gezeigt wird die Ausstellung in der Kleinen Galerie des Museums im zweiten Stock der Würzburger Residenz, Südflügel. Auch dieser Raum wurde jüngst renoviert; mit der Markwick-Ausstellung wird er zum ersten Mal seit langer Zeit wieder bespielt.
Fakten zur Ausstellung
Michael Markwick | New Songs to Learn and Sing. 12. Dezember 2018 bis 14. April 2019, Martin von Wagner Museum, Residenzplatz 2a. Den Katalog zur Ausstellung (88 Seiten, 29 farbige Abbildungen) gibt es für zehn Euro. Eintritt frei.
Öffnungszeiten: Di – Sa 10:00 – 13:30 Uhr sowie an folgenden Sonntagen, ebenfalls von 10:00 – 13:30 Uhr: 23.12., 06.01., 20.01., 03.02., 17.02., 03.03., 17.03., 31.03., 14.04.
Geschlossen am 24.12., 25.12, 31.12. und 01.01.