Tonsysteme und Musiknotation in alten Kulturen
09/18/2018
"Tonal Systems and Music Notation in Mesopotamian and Related Cultures" ist der Titel einer interdisziplinären Tagung, die vom 20. bis 22. September an der Universität Würzburg stattfindet. Interessierte Gäste sind willkommen.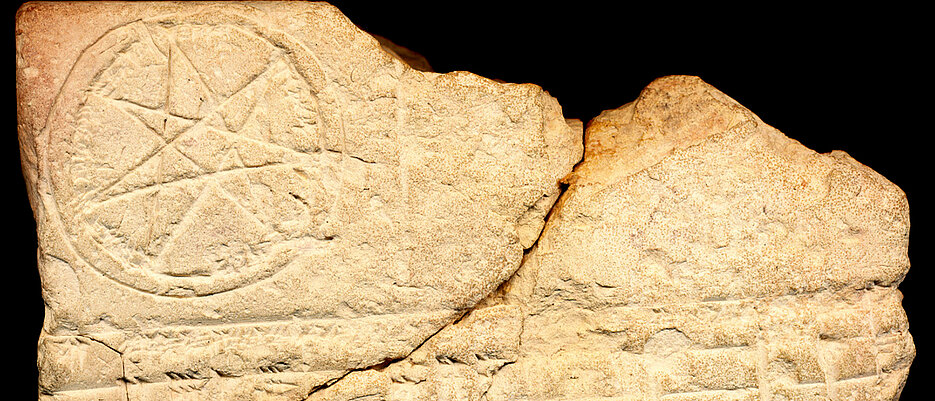 Babylonische Keilschrifttafel aus dem 1. Jahrtausend v. Chr. mit einem Heptagramm, das die sieben Saiten des mesopotamischen Skalensystems abbildet. (Cuneiform digital library initiative / University of Pennsylvania Museum of Archaeology and Anthropology)
Aus Mesopotamien stammen nicht nur die ältesten Zeugnisse für ein sprachlich fixiertes Tonsystem, sondern auch eine Art rudimentäre "Musiknotation", die außerhalb Babyloniens und Assyriens auch in der multikulturellen Umgebung des spätbronzezeitlichen Ugarit Anwendung fand.
Ziel der Tagung ist die Prüfung und Evaluierung bisheriger und neuer Deutungsversuche der keilschriftlichen Quellen sowie der aus materiellen Hinterlassenschaften zu eruierenden Informationen zu Tonsystemen und "Notationen" im Alten Orient.
Einmalig ist hierbei die interdisziplinäre Herangehensweise. So werden vergleichsmethodologisch benachbarte und analoge Kulturen, darunter auch Nachfolgekulturen einbezogen (Griechenland, die 'islamische' Welt von den frühesten Zeugnissen bis zum modernen Orient), die sich im Wesentlichen unabhängig von den westlichen Musiksystemen entwickelt haben.
Die Beteiligung von Fachleuten auf dem Gebiet vorneuzeitlicher Musiknotation und Tonalität verfolgt zudem das Ziel, eine auch fachextern anwendbare Definition der vorliegenden Systeme zu erarbeiten.
Interessierte Studierende und Gäste sind herzlich eingeladen, den Vorträgen und Diskussionen im Workshop beizuwohnen.
Organisatoren der Tagung sind Dahlia Shehata vom Lehrstuhl für Altorientalistik der Universität Würzburg und Stefan Hagel (Wien).
Mehr Informationen und das Programm
Kontakt
Dr. Dahlia Shehata, Lehrstuhl für Altorientalistik, T: +49 931 31-86654, dahlia.shehata@uni-wuerzburg.de
Additional images