Ralf Bargou ist "Inventor of the Year"
12/20/2016
Für seine Entwicklungsarbeit an dem Anti-Leukämie-Medikament Blincyto hat Professor Ralf Bargou die Auszeichnung "Inventor of the Year" erhalten. Die US-amerikanische Organisation IPO Education Foundation hat mit diesem Preis den Direktor des Comprehensive Cancer Centers Mainfranken ausgezeichnet.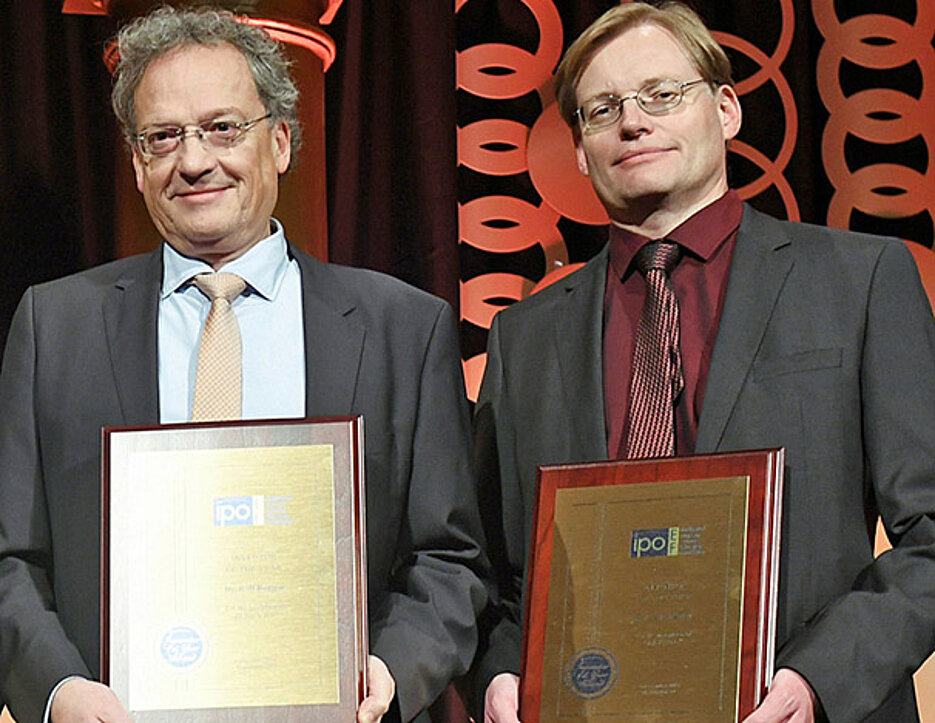 Professor Ralf Bargou vom Uniklinikum Würzburg (links) und Professor Peter Kufer aus München erhielten den Inventor of the Year-Award für ihre Arbeiten an dem Krebsmedikament Blincyto (Foto: IPO Education Foundation)
Der Würzburger Krebsexperte Ralf Bargou ist nach Einschätzung der US-amerikanischen Non-Profit-Organisation IPO Education Foundation ein "Inventor of the Year", ein Erfinder des Jahres. Den gleichnamigen Preis erhielt der Direktor des am Uniklinikum Würzburg (UKW) angesiedelten Comprehensive Cancer Centers Mainfranken (CCC Mainfranken) am 6. Dezember 2016 in Washington D.C./USA.
Die Intellectual Property Owners (IPO) Education Foundation ist eine Non-Profit-Organisation, die sich der Verbesserung der Rechte an geistigem Eigentum verschrieben hat. Bei der diesjährigen Preisvergabe wurden speziell Medikamentenentwicklungen geehrt, die nach Meinung der Jury zu Durchbrüchen im Bereich der Immuntherapie von Krebs – der sogenannten Immun-Onkologie – führten. Der Preis berücksichtigt die gesamte "Wertschöpfungskette" von der Erfindung im Labor über die erste klinische Anwendung bis hin zur Zulassung. Insgesamt wählte IPO Education Foundation sechs innovative Krebs-Immuntherapien als preiswürdig aus. Für jedes Medikament wurden jeweils die Haupterfinder ausgezeichnet.
Erfinder und Entwickler ausgezeichnet
Professor Ralf Bargou erhielt gemeinsam mit Professor Peter Kufer, Leiter der deutschen Forschungsabteilung der US-amerikanischen Biotech-Firma Amgen, den Preis für das Medikament Blincyto mit dem Wirkstoff Blinatumomab. Der gentechnisch erzeugte Antikörper wird zur Behandlung von Erwachsenen mit rezidivierter akuter lymphatischer Leukämie (ALL) eingesetzt. Die erfolgreiche Entwicklung von Blincyto beruht auf einer jahrelangen engen Kooperation zwischen den beiden Haupterfindern und ihren Forschungs- und Entwicklungsteams.
Neben Ralf Bargou waren in Würzburg Dr. Maria-Elisabeth Goebeler, Leiterin der Würzburger Early Clinical Trial Unit, und Professor Max Topp aus der Medizinischen Klinik II des UKW, entscheidend an der Entwicklung und Erprobung von Blinatumomab im Rahmen klinischer Studien beteiligt.
Würzburg in der Immun-Onkologie führend
Nicht zuletzt aufgrund der Entwicklungsarbeiten an Blinatumomab entwickelte sich Würzburg in den vergangenen Jahren zu einem der weltweit führenden klinischen Forschungszentren im Bereich der Immun-Onkologie. So werden im interdisziplinären Studienzentrum und in der Early Clinical Trial Unit des CCC Mainfranken zahlreiche weitere Medikamente mit dem gleichen oder einem verwandten Wirkprinzip zur Behandlung verschiedener Tumorerkrankungen im Rahmen eines umfangreichen Studienprogramms bereits klinisch getestet. Zudem forschen im Labor verschiedene Arbeitsgruppen der Medizinischen Fakultät der Universität Würzburg und des UKW an neuen und noch wirksameren immuntherapeutischen Wirkstoffen und Behandlungsansätzen.
Quelle: Pressemitteilung Universitätsklinikum Würzburg