Programm für ausländische Akademiker
04/30/2019
Eine Wanderung zum Schützenhof, ein Clubabend zum Thema "Pilze für Ohr und Gaumen", Ausflüge nach Heilbronn und Fulda: Die Gruppe zur Betreuung ausländischer Akademiker stellt ihr neues Programm vor.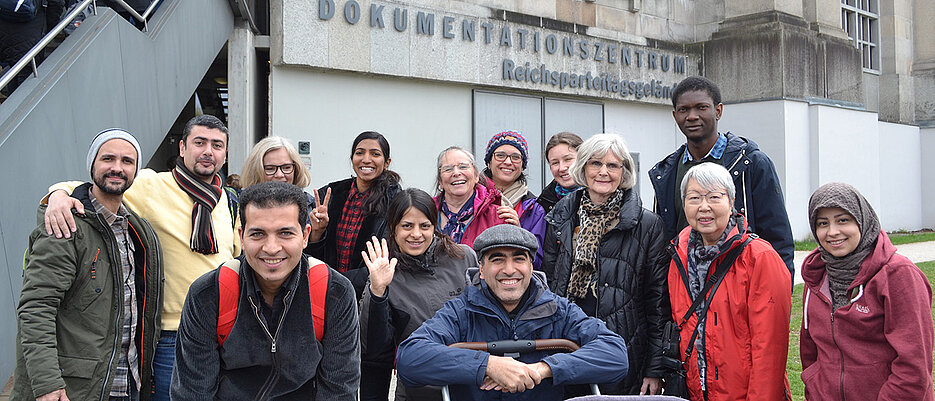 Die Gruppe "Betreuung ausländischer Akademiker" bei einem Besuch des Doku-Zentrums Reichsparteitagsgelände in Nürnberg. (Image: privat)
Gastwissenschaftler aus anderen Ländern kommen oft nur für Wochen oder Monate, manchmal aber auch für längere Zeit an die Universität. Unter ihnen sind zum Beispiel Professorinnen, die hier Gastdozenturen übernehmen, oder junge Forscher, die an ihren Dissertationen arbeiten. Manche bringen ihre Familien mit.
Um die Betreuung der ausländischen Gäste außerhalb der Universität kümmert sich eine Gruppe von Frauen mit einem stets vielseitigen Programm. Es umfasst gesellige Abende im Gästehaus der Universität gleich neben der Stadtmensa, aber auch Vorträge und Ausflüge.
Aktivitäten im Sommer und Herbst
Das Programm startet am Mittwoch, 8. Mai 2019, mit einem Abend, bei dem Frederik Schartl über Gamification spricht: "How the integration of game elements into your life can make you super better." Ausflüge führen in diesem Sommer ins Salzbergwerk Bad Friedrichshall, nach Heilbronn, Fulda und zum "Forum Botanische Kunst" nach Thüngersheim.
Eine Wanderung zum Schützenhof, eine Führung durch die Würzburger Residenz, ein Besuch im Theater Chambinzky: Auch das gehört zum Programm, an dem ausländische Akademiker in diesem Sommer teilnehmen können.
Bitte weitersagen!
Die Gruppe "Betreuung ausländischer Akademiker" bittet darum, ihr Programm an möglichst vielen Lehrstühlen und Instituten bekannt zu machen. Ein pdf-Dokument mit dem Programm zum Weiterverbreiten oder zum Ausdrucken und Aushängen gibt es hier als pdf-Datei sowie auf der Homepage der Gruppe.
Zur Homepage der Gruppe "Betreuung ausländischer Akademiker"