Neue Herausforderungen der Erwachsenenbildung
05/28/2019
Lernende Erwachsene aus Arabisch sprechenden Ländern: Sie stehen im Fokus eines interkulturellen Workshops Ende Juni an der Universität Würzburg. Interessierte können sich ab sofort dafür anmelden.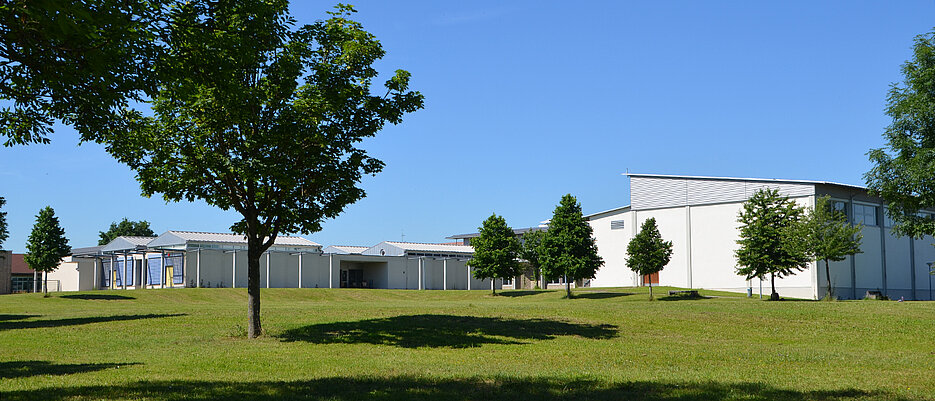 Zu einem Workshop laden die Professorinnen Regina Egetenmeyer (Universität Würzburg) und Rabab Tamish (Universität Bethlehem) in das Bibliotheks- und Seminarzentrum am Campus Hubland Nord ein. (Image: Karsten Fehr / Universität Würzburg)
Infolge der aktuellen Flucht- und Migrationsbewegungen sieht sich die Erwachsenenbildung mit neuen Herausforderungen konfrontiert. Nicht zuletzt die Aufnahme zahlreicher Flüchtlinge aus dem arabischen Raum verändert die Anforderungen an das erwachsenenpädagogische Personal und kann zu einem Wandel erwachsenenpädagogischer Arbeitsfelder führen.
Kooperation mit Bethlehem
Diese neuen Herausforderungen für Pädagoginnen und Pädagogen nimmt jetzt ein Workshop an der Julius-Maximilians-Universität Würzburg (JMU) in den Blick: "Optimizing the learning outcomes for Arab speaking adult learners in adult education and community centres". Geleitet wird der Workshop von den Professorinnen Regina Egetenmeyer, Inhaberin der Professur für Erwachsenenbildung/Weiterbildung an der JMU, und Rabab Tamish von der Universität Bethlehem.
Der englischsprachige Workshop findet statt am Mittwoch, 26. Juni. Er richtet sich an alle Interessierten, die in ihrer professionellen und ehrenamtlichen Tätigkeit mit lernenden Erwachsenen aus Arabisch sprechenden Ländern arbeiten. Zudem ist er für Studierende der Erwachsenenbildung/Weiterbildung geöffnet. Die Anmeldung erfolgt per Mail an erasmus.education@uni-wuerzburg.de
Den Lernerfolg befördern
"Der Workshop schafft ein Forum, um Erfahrungen und Best-Practice-Beispiele aus der Arbeit mit lernenden Erwachsenen aus Arabisch sprechenden Ländern zu teilen", erklärt Regina Egetenmeyer. Die Teilnehmenden werden soziale, politische und kulturelle Einflussfaktoren auf den Lernprozess Arabisch sprechender Erwachsener erarbeiten und geeignete Strategien zur Bewältigung von Problemen diskutieren. "Ziel ist es, Lernprozesse zukünftig enger mit den Vorerfahrungen der Erwachsenen zu verbinden, um den Lernerfolg der Zielgruppe positiv zu befördern", so die Professorin.
Die Kooperation zwischen der Faculty of Education der Universität Bethlehem und dem Institut für Pädagogik der Universität Würzburg besteht bereits seit 2015. Die Zusammenarbeit im Rahmen des Erasmus+ Programms ermöglicht Studierenden und Dozierenden einen Austausch im jeweils anderen Land. Gastdozierende aus Bethlehem bieten seitdem regelmäßig Seminare in Würzburg an, die an den Lehrplan in Würzburg angelehnt sind und das reguläre Angebot erweitern.
Einbindung in das GSIK-Programm
Der Austausch wird ebenfalls aktiv durch die Einbindung der Lehrangebote in das Lehrprogramm "GSIK – Globale Systeme und interkulturelle Kompetenz" am Institut für Pädagogik der JMU gefördert. Dementsprechend passt der Workshop thematisch zu dem aktuellen Schwerpunktthema "Diversity" der GSIK-Veranstaltungsreihe. Durch die Einbindung in die Veranstaltungsreihe ist der Workshop auch für Studierende aller Fachbereiche im Rahmen des GSiK-Zertifikats geöffnet.
Das Programm des Workshops (PDF)
Kontakt
Prof. Dr. Regina Egetenmeyer-Neher, Professur für Erwachsenenbildung / Weiterbildung
T: +49 931 31-83898, regina.egetenmeyer@uni-wuerzburg.de