Gastroenterologie in neuen Händen
04/30/2019
Professor Alexander Meining ist der neue Leiter des Schwerpunkts Gastroenterologie am Uniklinikum Würzburg. Zu seinen Spezialitäten in Klinik und Forschung zählen endoskopisch-minimalinvasive Therapien.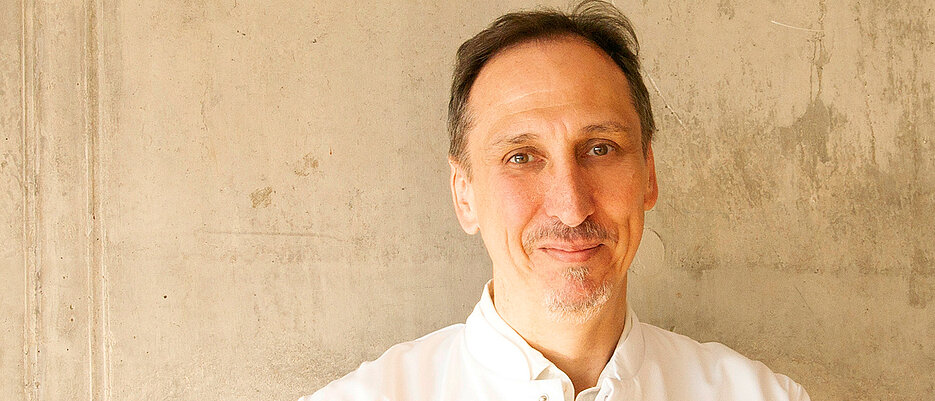 Alexander Meining, neuer Lehrstuhlinhaber für Gastroenterologie an der Medizinischen Klinik und Poliklinik II. (Image: Barbara Knievel / Uniklinikum Würzburg)
Seit Anfang April 2019 besetzt Professor Alexander Meining den neu geschaffenen Lehrstuhl für Gastroenterologie an der Medizinischen Klinik und Poliklinik II des Uniklinikums Würzburg (UKW). Ab Oktober dieses Jahres wird er dann auch Professor Michael Scheuerlen als Leiter des Schwerpunkts Gastroenterologie ablösen. Scheuerlen geht nach 26 Jahren in dieser Position in den Ruhestand.
Im Schwerpunkt Gastroenterologie werden Patientinnen und Patienten mit Erkrankungen der Verdauungsorgane – also Speiseröhre, Magen, Dünndarm, Dickdarm, Gallenwege und Bauchspeicheldrüse – diagnostiziert und behandelt. "Ich freue mich, dass es uns gelungen ist, mit Professor Meining einen renommierten Experten zu gewinnen, der nicht zuletzt unsere in den vergangenen Jahren aufgebaute Spezialisierung im Bereich der gastroenterologischen Tumortherapie fortsetzen und mit neuen Impulsen weiter stärken wird", kommentiert Professor Hermann Einsele, der Direktor der Medizinischen Klinik II.
An Weltzentren der Endoskopie geprägt
Alexander Meining (Jahrgang 1967) war zuletzt als Professor für interventionelle und experimentelle Endoskopie am Universitätsklinikum Ulm tätig, wo er auch die Endoskopie leitete. Bis dahin fand die medizinische Ausbildung und Karriere des gebürtigen Münchners fast vollständig in der bayerischen Landeshauptstadt statt. "Schon während meiner Doktorarbeit fand ich den Kontakt zur Gastroenterologie. Wie damals bin ich auch heute noch fasziniert von endoskopischen Verfahren und deren Innovationspotenzialen", sagt Meining.
Ein Glücksfall war für ihn, dass er im Jahr 1998 von Professor Meinhard Classen, einem international bekannten Vordenker der Endoskopie, am Klinikum rechts der Isar der TU München eingestellt wurde. "Praktisch alle endoskopischen Neuentwicklungen wurden seinerzeit an diesem Klinikum untersucht und evaluiert", berichtet der Neuwürzburger.
Ein Auslandaufenthalt in Japan – an der Universität Yokohama und am National Cancer Center in Tokio – zeigte Alexander Meining zudem die weltweite Speerspitze der endoskopischen Entwicklung. Dort fand er nach eigenen Angaben den Einstieg in die therapeutische Endoskopie von Magen- und Darmerkrankungen – ein Thema, das er seither als persönlichen Schwerpunkt weitergetragen und ausgebaut hat.
Höchst zukunftsträchtige Therapien
"Ich halte endoskopisch-minimalinvasive Therapien – zum Beispiel die Abtragung von frühen Karzinomen über die natürlichen Körperöffnungen – für höchst zukunftsträchtig. Nicht zuletzt deshalb, weil auch unseren Patienten das geringste Zugangstrauma natürlich am liebsten ist", erläutert Meining.
Neben erweiterten Möglichkeiten der Tumortherapie des Verdauungstrakts hat der UKW-Neuzugang auch topaktuelle Verfahren im Portfolio, bei denen Flüssigkeitsansammlungen im Körperinneren mittels einer speziellen Drainage über Magen und Darm abgeleitet werden können.
Außerdem plant er, wie schon am Universitätsklinikum Ulm, auch am UKW – hier in Kooperation mit der Kardiologie – eine sogenannte Kurzliegerstation aufzubauen. Bei diesem Konzept am Schnittpunkt zwischen ambulanter und stationärer Behandlung werden endoskopisch therapierte Patienten für kurze Zeit stationär aufgenommen, um eine größtmögliche Sicherheit bei nur kurzer Liegedauer im Klinikum zu gewährleisten.
Stark klinisch orientiere Forschungsarbeit
Meinings wissenschaftliche Arbeit ist stark klinisch orientiert. Er erläutert: "Wenn man in der Medizin feststellen will, wo Verbesserungsbedarf besteht, muss man meiner Meinung nach jeden Tag am Patienten arbeiten. Mit dieser 'Unzufriedenheit' gehen mein Team und ich dann an die Labor- oder Werkbank und mit der gefundenen technologischen Lösung zurück ans Krankenbett." Dieses Vorgehen brachte ihm auch den "Innovation of the Year Award 2017" der Europäischen Gesellschaft für Endoskopie (ESGE) ein. Verliehen wurde er für die Konzeption und produktreife Entwicklung eines neuen Endoskop-Aufsatzes, mit dem man Engstellen aufdehnen kann.
Zu seinen aktuellen wissenschaftlichen Vorhaben zählt es, Instrumente zu entwickeln, die vor allem in der Tumortherapie noch sicherere und schnellere Eingriffe erlauben. Außerdem geht es um ein noch früheres Erkennen von Krankheiten durch neue Diagnoseverfahren. Beispielsweise forscht er an einer schluckbaren Kapsel, die mit einem kleinen Labor ausgestattet ist. Auf dem Weg durch den Magen-Darm-Trakt könnte dieses gerade bei so genannten funktionellen Baucherkrankungen feststellen, welche Verdauungsstörung vorliegt. Auch bei den Endoskop-Schläuchen geht es um eine weitere Miniaturisierung. Ziel ist es, deren Durchmesser so klein zu machen, dass sie noch besser ambulant und ohne Schlafspritze eingesetzt werden können.
Affinität zu Digitalisierung und künstlicher Intelligenz
Zu den Forschungswerkzeugen für den Tüftler Alexander Meining gehören neben 3D-Druckern zur Anfertigung von endoskopischen Prototypen auch moderne Bildgebungsverfahren, Computertechnologien sowie künstliche Intelligenz zur smarten Verbindung von Bild- und Labordaten. In diesem Zusammenhang freut er sich auch über erste vielversprechende Gespräche mit potenziellen Kooperationspartnern in Würzburg, zum Beispiel am Institut für Informatik der Julius-Maximilians-Universität. "Generell bin ich begeistert über das extrem kooperative, kollegiale Umfeld, dass ich an meiner neuen Arbeitsstelle vorgefunden habe", sagt Meining.
Seine hohe fachliche Expertise spiegelt sich unter anderem in der Autoren- oder Co-Autorenschaft von bislang über 270 wissenschaftlichen Publikationen sowie mehr als 350 gehaltenen Vorträgen auf nationalen und internationalen Kongressen und Tagungen wider. Hinzu kommen zahlreiche führende und beratende Positionen bei Fachgesellschaften und Fachzeitschriften. So ist er momentan zum Beispiel im Vorstand und Beirat der Deutschen Gesellschaft für Gastroenterologie, Verdauungs- und Stoffwechselkrankheiten tätig und hat seit März dieses Jahres die Präsidentschaft der Deutschen Gesellschaft für Endoskopie und bildgebende Verfahren (DGEBV) inne.
Lehre am Puls der technologischen Möglichkeiten
In der Lehre will der Professor den Studierenden die Begeisterung für den endoskopischen Blick ins Körperinnere, das Wissen um die Vorteile eines minimalen Zugangstraumas und das Interesse an medizinischen Innovationen vermitteln. "Mein Team und ich werden also die Standards zeigen, aber auch die Neuerungen vorstellen. Dazu planen wir neue Lehrkonzepte unter Einbeziehung von virtueller Realität und Hands-on-Training", so Meining.