Extraordinary Professorship aus Pretoria
06/26/2018
Auszeichnung für Gerhard Bringmann: Dem Würzburger Chemieprofessor und Vorsitzenden des Stipendienprogramms BEBUC wurde von der Universität Pretoria eine Ehrenprofessur verliehen.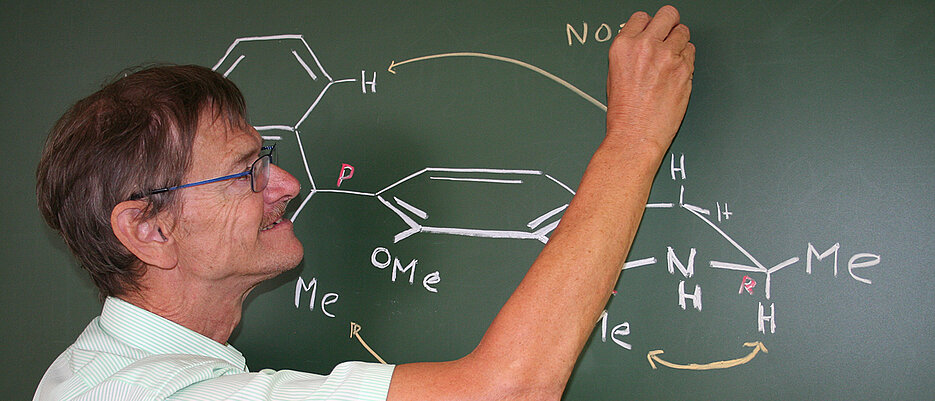 Freude am Zeichnen selbst komplizierter chemischer Formeln: Gerhard Bringmann. (Foto: W. Shamburger)
Erst kürzlich hatte Gerhard Bringmann vom Institut für Organische Chemie der Uni Würzburg für den Förderverein Uni Kinshasa e.V. und damit für das Stipendienprogramm BEBUC eine Kooperations-Vereinbarung mit der University of Pretoria und der Universität Würzburg unterzeichnet. Nun hat er aus Pretoria eine Ehrenprofessur verliehen bekommen. Sie soll die bereits sehr fruchtbare Zusammenarbeit zwischen der südafrikanischen Universität, dem Förderverein Uni Kinshasa e.V. und der Uni Würzburg vertiefen. Mit der Professur sollen zum einen die gemeinsamen Arbeiten in Forschung und Lehre intensiviert werden, zum anderen soll die Zusammenarbeit im Bereich des Exzellenzstipendienprogramms BEBUC weiter ausgebaut werden.
Ziel des Programms ist die Förderung von herausragendem Hochschullehrernachwuchs in der Demokratischen Republik Kongo. BEBUC unterstützt über 190 exzellente Studierende und Schüler von 25 kongolesischen Universitäten und Schulen, etwa 40 davon bei ihrem derzeitigen Auslandsstudium. Organisiert wird das Programm vom Förderverein Uni Kinshasa e.V. und seinen über 1920 Mitgliedern aus fast 60 Ländern. Die Finanzierung kommt vor allem von der Else-Kröner-Fresenius-Stiftung (Bad Homburg).
Über Gerhard Bringmann
Seit 1987 lehrt und forscht Bringmann an der Uni Würzburg als Inhaber des Lehrstuhls Organische Chemie I, seit 2017 ist er als Seniorprofessor weiterhin in Forschung und Lehre tätig. Sein Hauptarbeitsgebiet ist die Naturstoffchemie – die Suche nach neuen Wirkstoffen aus der Natur, zur Bekämpfung von Infektionskrankheiten und Tumorerkrankungen. Seine Arbeiten sind in etwa 730 wissenschaftlichen Publikationen und Patenten dokumentiert.
Ausgezeichnet wurden seine richtungweisenden Arbeiten mit zahlreichen Preisen, darunter die Adolf-Windaus-Medaille für Naturstoffforschung und der Paul-J.-Scheuer-Preis für Marine Biotechnologie. Auch für seine humanitären Verdienste im Bereich der Nachwuchsförderung im Kongo wurde er vielfach geehrt, unter anderem mit dem Gusi-Friedenspreis und dem Kongolesischen Verdienstkreuz Erster Klasse in Gold. Bringmann ist Mitglied der Europäischen Akademie der Wissenschaften und Künste sowie der African Academy of Sciences. Vier kongolesische Universitäten haben ihm Ehrendoktortitel verliehen, zwei chinesische Universitäten (die Peking University in Beijing und die Jinan University in Guangzhou) haben ihn mit Ehrenprofessuren ausgezeichnet.
Über die Professur
Die Bringmann verliehene Ehrenprofessur ist angesiedelt am Department of Chemistry, in der Faculty of Natural and Agricultural Sciences der Uni Pretoria. Aktuelle Kooperationsprojekte haben die Suche nach neuen bioaktiven Naturstoffen aus tropischen Pflanzen und ihre medizinische Nutzbarmachung zum Ziel. Eingebunden in diese Forschungsarbeiten sind vor allem BEBUC-Stipendiaten. Diese werden von Bringmann zusammen mit seinem südafrikanischen Kollegen Professor Vinesh Maharaj wissenschaftlich betreut. Zukünftig sollen die gemeinsamen Forschungsaktivitäten auch auf andere Themenfelder ausgedehnt werden.
Ausblick
"Die Professur wird dem Stipendienprogramm neue Impulse geben. Sie wird dazu beitragen, dass weitere BEBUC-Stipendiaten an der Uni Pretoria ihre Masterstudien oder ihre Doktorarbeiten durchführen können – um dann in den Kongo zurückzukehren und dort ihr Wissen an Jüngere weiterzugeben", so Bringmann.
Kontakt
Prof. Dr. Gerhard Bringmann, Institut für Organische Chemie der Universität Würzburg, T +49 931 31-85323, bringman@chemie.uni-wuerzburg.de
Additional images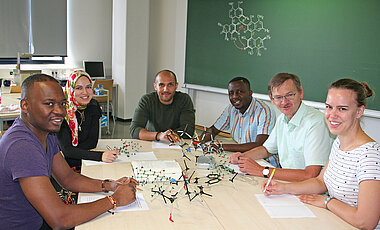 Chemische Diskussion mit Mitgliedern der internationalen Forschungsgruppe von Gerhard Bringmann, darunter zwei BEBUC-Stipendiaten (v.l.): Blaise Lombe, Shaimaa Fayez, William Shamburger, Jean-Pierre Mufusama, Gerhard Bringmann, Lea Wittmann. (Foto: D. Feineis)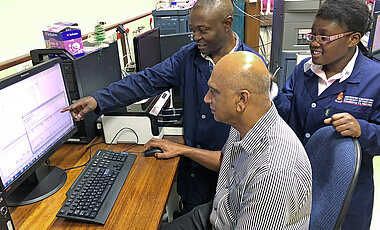 Bei der Forschung in Pretoria: Professor Vinesh Maharaj mit den beiden zusätzlich von Gerhard Bringmann betreuten BEBUC-Stipendiaten Séverin Muyisa und Séphora Mianda. (Foto: D. Naidoo-Maharaj)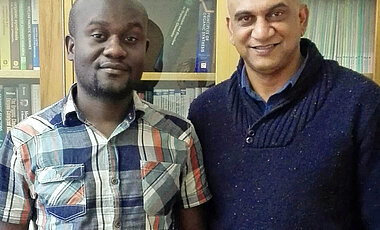 Hat zuvor den experimentellen Teil seiner Masterarbeit in Würzburg absolviert: BEBUC-Stipendiat Félix Katele mit dem Hauptbetreuer seiner Doktorarbeit, Professor Vinesh Maharaj. (Foto: D. Naidoo-Maharaj)