Rendezvous mit der Ewigkeit in Buchform
04/30/2019
Schätze aus ihrer 400-jährigen Geschichte präsentiert die Würzburger Universitätsbibliothek in einer neuen Ausstellung. Zu sehen ist dort unter anderem auch das berühmte Kiliansevangeliar.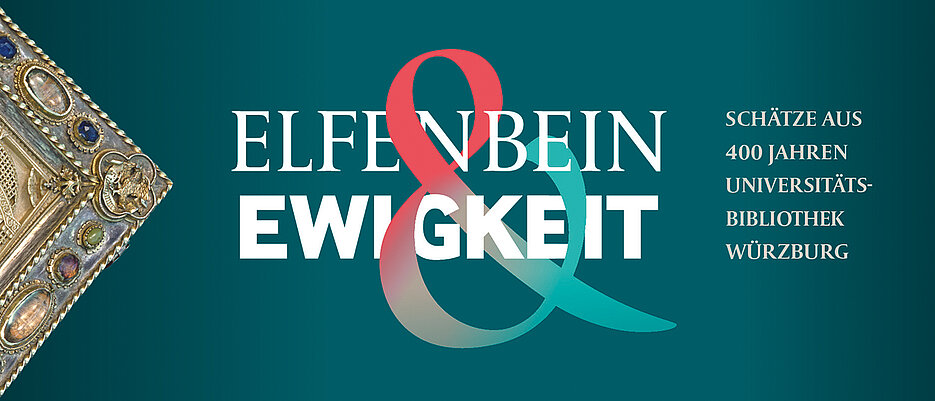 Anlässlich ihres 400-jährigen Jubiläums öffnet die Universitätsbibliothek Würzburg ihre Tresortüren und präsentiert in einer einmaligen Ausstellung die prunkvollsten Schätze aus ihren Sammlungen. Vom 3. Mai bis 30. Juni 2019 können die Besucher in der Zentralbibliothek am Hubland ausgewählte Spitzenstücke bewundern, darunter einzigartige Handschriften wie das Kiliansevangeliar und das Fuldaer Evangeliar aus der "Würzburger Dombibliothek", die zu den bedeutendsten Handschriftenensembles in Mitteleuropa zählt. Die Jubiläumsausstellung wird im Rahmen des Festakts am 2. Mai 2019 feierlich eröffnet.
Ein wuchtiges Signal und großartiges Zeichen
400 Jahre Universitätsbibliothek seien "ein wuchtiges Signal, ein großartiges Zeichen, ein kulturelles Erbe, aber auch ein Blick in die Zukunft", so der bayerische Ministerpräsident Dr. Markus Söder in seinem Grußwort zum Jubiläum. Die Ausstellung "Elfenbein & Ewigkeit" bildet den Höhepunkt der zahlreichen Veranstaltungen im Jubiläumsjahr. Zu sehen sind ca. 75 besondere Exponate, in denen sich über zwei Jahrtausende Mediengeschichte in prächtigen Farben und oft singulären Texten entfalten.
Die Ausstellung verstehe sich als eine "Einladung zu einer außergewöhnlichen Begegnung mit der kulturellen Vergangenheit Mainfrankens", erläutert der Leiter der Universitätsbibliothek, Dr. Hans-Günter Schmidt: "Die Besucher haben die einmalige Gelegenheit, sich die sonst im Verborgenen gehüteten Schätze, eingebettet in eine besondere, extra angefertigte Ausstellungsarchitektur aus der Nähe anzuschauen." Der Besuch der Ausstellung sei "ein Rendezvous mit der Ewigkeit in Buchform".
Der Zauber abendländischer Buchkultur
Seit dem frühesten Mittelalter werden Bücher auf Pergament geschrieben und in Buchform gebunden. Die spektakulärsten dieser Bücher sind die Abschriften der vier Evangelien. Insgesamt neun dieser Prunkstücke gibt es in der Ausstellung zu sehen. Sechs davon tragen mit Elfenbeinplatten geschmückte Einbände, darunter das "Heilige Buch Frankens" – das berühmte Kiliansevangeliar, dessen Elfenbeinrelief das Martyrium der Frankenheiligen zeigt.
Auch vermeintlich einfache Texthandschriften beherbergen verborgene Schätze, wie die Ausstellung eindringlich vermittelt: Für die irische Geschichte von herausragender Bedeutung ist eine äußerlich eher schlichte Abschrift der Paulusbriefe aus dem 8. Jahrhundert, die mit ihrer Fülle an altirischen Textzeugnissen die Rekonstruktion dieser Sprache erst ermöglichte. Unter den Exponaten befindet sich auch die älteste Handschrift, die die Universitätsbibliothek besitzt. Es handelt sich um einen auf Papyrus geschriebenen Text, eine Abschrift der Hannibal-Biographie des Spartaners Sosylos; das Fragment ist der weltweit einzig existierende Textzeuge dieses Werkes.
Einzigartig sind auch die in der Ausstellung gezeigten Beispiele mittelalterlicher Buchmalerei, etwa ein Festtagslektionar der Malschule des Klosters Reichenau, deren Werke zum Unesco-Weltdokumentenerbe, dem "Memory of the World", zählen, oder die Würzburger Dominikanerbibel, in der 1246 mit dem Maler Hainricus erstmals in Deutschland ein sein Werk persönlich signierender Künstler greifbar wird. Exotisch und aus späteren Zeiten präsentiert sich die deutsche Übersetzung des Hortus Malabaricus von ca. 1730, ein Pflanzenbuch zur neu entdeckten Flora von Südindien, das der berühmteste Blumenmaler seiner Zeit, Georg Dionysius Ehret, illustriert hat.
Mitmach-Stationen und ein Virtual-Reality-Game
Stationen, die zum Mitmachen und selbst Begreifen einladen, sind in die Ausstellung integriert: An einem mittelalterlichen Schreibpult lassen sich die Mühen der Schreiber mit Federkiel und Tinte eigenhändig erfahren. Die Nachbildung eines spätmittelalterlichen Lesepultes, an dem Bücher zur Diebstahlssicherung angekettet waren, ermöglicht eine Vorstellung von den frühen Bibliotheksräumen. In einem Virtual-Reality-Game wird eine Episode aus der Stadtgeschichte zum Aufhänger für eine spannende 3D-Rallye durch das mittelalterliche Würzburg.
Das Virtual-Reality-Game und weitere digitale Ausstellungskomponenten konnten durch die Unterstützung der VR-Bank Würzburg und der Raiffeisen-Schulze-Delitzsch-Stiftung Bayerischer Genossenschaften realisiert werden. Der VR-Bank sei es ein Anliegen, "die digitale Transformation zu unterstützen und dabei junge Menschen zu begeistern", so der Vorstandssprecher der VR-Bank Würzburg Rainer Wiederer: "Mit unserer Förderung haben wir in die Zukunft unserer Region investiert – zur Bewahrung unserer Kulturschätze und in die Ausbildung unserer jungen Menschen."
Literarisches Erbe Mainfrankens im digitalen Zeitalter
Die Universitätsbibliothek Würzburg ist "als staatliche Regionalbibliothek Unterfrankens auch eine Heimstätte unseres literarischen Erbes und unserer kulturellen Wurzeln", betont die Schirmherrin des Jubiläums, Landtagspräsidentin a.D. Barbara Stamm. Dieses Erbe aus 400 Jahren Sammlungsgeschichte verpflichtet. Dass die Universitätsbibliothek Würzburg aber damit gerade kein Elfenbeinturm ist, zeigt sie mit dieser Ausstellung hoch über den Dächern Würzburgs.
"So wie der Buchdruck im 15. Jahrhundert die Wissensgesellschaft revolutioniert hat, eröffnet uns heute die Digitalisierung ungeahnte Chancen. Bücher haben dabei im digitalen Zeitalter nichts von ihrer Faszination eingebüßt. Hier am Hubland vereinen sich 400 Jahre Bibliotheksgeschichte und modernste Forschungseinrichtungen. Als Digitale Bibliothek ist die Universitätsbibliothek Würzburg auch ein wichtiger Mittler zwischen Buch und Digitalem." Mit diesen Worten charakterisiert die bayerische Staatsministerin für Digitales, Judith Gerlach, die Ausstellung, die klassische und digitale Herangehensweisen auf innovative Art und Weise kombiniert – eine Ausstellung, die in dieser Form und Fülle wohl lange nicht mehr zu sehen sein wird.
Informationen zur Ausstellung
Ausstellungszeitraum: 3. Mai bis 30. Juni 2019
Öffnungszeiten: Montag bis Freitag von 10:00 bis 18:00 Uhr, Samstag und Sonntag von 11:00 bis 17:00 Uhr, an Feiertagen geschlossen (Führungen bei Voranmeldung auch an Feiertagen möglich)
Ausstellungsort: Lesesaal Sondersammlungen, 3. Obergeschoss in der Zentralbibliothek, Am Hubland, 97074 Würzburg
Eintrittspreise: Drei Euro für Erwachsene (ab 14 Jahre), ermäßigt zwei Euro, Kinder frei; Führung zwei bzw. ein Euro zuzüglich zum Eintritt
Führungen für Gruppen ab 15 Personen (40 Euro) und Schulklassen (kostenlos): Buchung telefonisch unter +49 931 31-85943, max. Teilnehmerzahl pro Führung: 25
Eine Auflistung der Sonderveranstaltungen zur Ausstellung finden Sie hier.
Informationen zum gesamten Jubiläumsprogramm gibt es hier.
Der Haupteingang (Südeingang) der Zentralbibliothek ist behindertengerecht angelegt. In der Zentralbibliothek ist ein Aufzug zum Lesesaal Sondersammlungen vorhanden.
Kontakt
Dr. Katharina Boll-Becht, T: +49 931 31-85938
Kerstin Kornhoff, T: +49 931 31-85945
E-Mail: 400@bibliothek.uni-wuerzburg.de