Preise für die Besten
07/31/2018
Am Samstag, 14. Juli, fand in der Neubaukirche die Akademische Abschlussfeier der Fakultät für Chemie und Pharmazie statt. Über 60 Absolventinnen und Absolventen bekamen ihre Zeugnisse überreicht.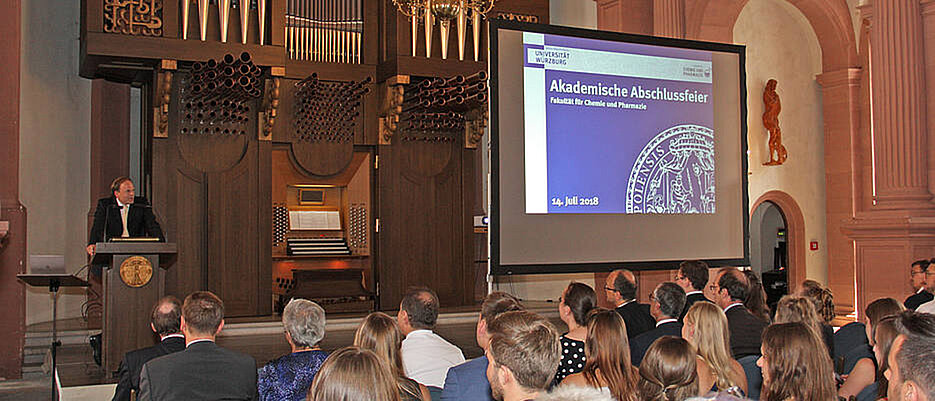 Eröffnung der Veranstaltung durch Dekan Prof. Dr. Dr. L. Meinel (Foto: Fakultät für Chemie und Pharmazie)
Besondere Ehre wurde bei der Abschlussfeier der Fakultät für Chemie und Pharmazie den Fakultätspreisträgerinnen und -trägern sowie dem Preisträger des Lesmüller-Preises zuteil, Felix Baumann. Die Begrüßung und Moderation erfolgte durch Dekan Lorenz Meinel, der die zahlreich erschienenen Absolventinnen und Absolventen sowie Gäste begrüßte.
Blick zurück auf das Studium
Die ersten Redner schilderten das Studium und die damit verbundenen Erfahrungen aus Sicht der Professoren und der Studierenden.
Professor Ingo Fischer vom Institut für Physikalische und Theoretische Chemie veranschaulichte mit einer heiteren Comic-Präsentation die Karriere der "Stud-ente" vom Bachelor- und Masterstudium über die Promotion bis hin zu einer etwaigen Habilitation.
Marcel Seuffert (Chemie M.Sc.), Felicitas Kuhn und Markus Grote (Pharmazie) berichteten von ihren Erfahrungen im Studium: von Erfolgen und Misserfolgen im Labor und in Klausuren, aber vor allem auch, wie sie im Laufe ihres Studiums Freunde gefunden haben. Als zentrale Botschaft stellten alle Vortragenden die Wichtigkeit von Zusammenarbeit in den Mittelpunkt.
Übergabe der Zeugnisse
Im Anschluss erhielten 34 Absolventinnen und Absolventen in Master- sowie 28 Absolventinnen und Absolventen in Staatsexamens-Studiengängen im Beisein und unter dem Applaus von vielen - meist sehr stolzen - Eltern, Großeltern sowie Freundinnen und Freunden ihre Zeugnisse. Besonders hervorgehoben wurde Felix Baumann, Preisträger des Lesmüller-Preises für den besten Pharmazie-Abschluss im Sommersemester 2017.
Ehrung der Besten - Fakultätspreise
Es folgte die Verleihung der Fakultätspreise an die jeweils besten Absolventinnen und Absolventen des vergangenen Jahres in den jeweiligen Studienabschlüssen. Die Preisträgerinnen und Preisträger erhielten vom Dekan eine Urkunde und eine extra für die Fakultät angefertigte Medaille. Die Geldpreise des Universitätsbundes aus der Keck-Köppe-Förderstiftung händigte Dr. Alfons Ledermann aus, der über das Anliegen der zum Teil leider bereits verstorbenen Stifter vortrug.
Maximilian Dietz (Bachelor of Science – FOKUS Chemie)
Julian Fink (Master of Science – Chemie)
Milena Kirschner (Staatsexamen - Pharmazie)
Dr. Anja Röder (Promotion - Chemie) stellvertretend ihre Mutter Frau Regina Klarmann-Röder
Festvortrag von Andreas Brumby
Abgerundet wurde die Veranstaltung durch den gleichermaßen erheiternden wie auch erhellenden Vortrag "Das unvorstellbare Durchdenken von Science Fiction zu zukünftiger Mobilität" von Dr. Andreas Brumby (Head of Umicore Technical Academy, Hanau-Wolfgang).
Brumby, der lange im Ausland gelebt und gearbeitet hat, verstand es, in seinem visionären Vortrag viele Probleme anschaulich darzustellen, mit denen wir uns alle in naher Zukunft beschäftigen müssen: Die Veränderung der (persönlichen) Mobilität, umweltschonende Erzeugung und Speicherung elektrischer Energie, neue Produktionsmethoden und Prozesse und vieles mehr. Dies veranschaulichte er anhand vieler einprägsamer Beispiele, darunter neue Akku-Technologien in der Automobilbranche. Hier griff er die Entwicklung der gekühlten Einzelzellen–Akkus auf, die von Elon Musk und Tesla verwendet werden.
Die Geschichte einer Idee, die gegen viele Widerstände zu einem erfolgreichen Produkt wurde. Er schloss seinen Vortrag mit dem Appell an die Absolventinnen und Absolventen, stets neugierig zu sein und mit wachem Verstand die gegebenen Grenzen zu hinterfragen. Hierbei setzte er den Fokus, sich all die Möglichkeiten neuer Technologien und des Austausches zu Nutze zu machen.
Seien es die Möglichkeiten schneller Kommunikation (Twitter, WOL, ESN) oder die Analyse großer Datensätze (Big Data / Machine Learning). Sie mögen niemals stehen bleiben, sondern sollen für sich aus den neuen Technologien das Beste heraussuchen und jeweils Chancen und Risiken abwägen. Er verabschiedete die Zuhörer mit dem Hinweis, dass natürlich die persönlichen Kontakte oft entscheidend seien, zu einem Sektempfang in den Innenhof der Alten Universität, wo anschließend fleißig Bilder der Absolventinnen und Absolventen gemacht werden konnten.
Unterstützung
Durch die freundliche Unterstützung der Evonik Nutrition & Care GmbH, Hanau, sowie der Main-Post GmbH & Co. KG, Würzburg, konnte der Feier ein würdiger Rahmen verliehen werden. Für die musikalische Umrahmung sorgte Organist und Universitätscarilloneur Dr. Dr. Jürgen Buchner an der Schuke-Orgel. Die Organisation erfolgte über das Dekanat (Ute Link) unter tatkräftiger Unterstützung des AK Brixner (IPTC).
Weitere Bilder gibt es auf den Webseiten der Fakultät.