Telefonservice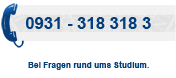 Die telefonische Hotline der Universität Würzburg beantwortet erste Fragen zu allen Bereichen des Studiums und den Einrichtungen der Universität. Unser Schwerpunkt liegt in der Anliegenklärung und Beantwortung von Fragen von Studieninteressenten und Studierenden. Mit Fragen beispielsweise zur Studienberechtigung, Bewerbung, Einschreibung, Kombinationsmöglichkeiten, Studierendenausweis, Fachwechsel u.v.m. sind Sie bei uns richtig. Wir sind eng an die Zentrale Studienberatung, an die Studierendenkanzlei, an das Prüfungsamt und weitere Bereiche angebunden; bei komplexeren Fragestellungen kennen wir die richtigen Ansprechpartner und leiten weiter.
Sie können uns als Mitarbeiter der Universität auch gerne Fragen zum Campusmanagement WueStudy stellen, wir sind erste Ansprechpartner für das System und helfen z.B. bei Fragen zur Raumbuchung, Veranstaltungsmanagement, Prüfungsverbuchung u.s.w.
Tel: +49 931 31-83183
Mo.–Do. 9:00–18:00 Uhr, Fr. 9:00–15:00 Uhr

International callers welcome! We speak English!
Most of the time, you can also talk to us in Italian, French or Spanish.
Die Telefone sind täglich von Montag bis Freitag von 09:00 bis 15:00 besetzt, auch in den Schul- und Semesterferien, nicht jedoch an gesetzlichen Feiertagen und auch nicht zwischen Weihnachten und Neujahr.
Leitung/Ansprechpartner
Henning

Schröder
stellvertretender Referatsleiter

Das Team vom Telefonservice
Sophia

Ackermann
studentische Mitarbeiterin

Mercedes

Acosta
studentische Mitarbeiterin

Lisa

Altvater
studentische Mitarbeiterin

Caroline

Baier
studentische Mitarbeiterin

Katharina

Beckh
studentische Mitarbeiterin
Linnéa

Behncke
studentische Mitarbeiterin
Kevin

Berg
studentischer Mitarbeiter
Paul

Breitner
studentischer Mitarbeiter
Julia

Dempfle
studentische Mitarbeiterin
Janina

Grotefeld
studentische Mitarbeiterin
Romina

Gulyas
studentische Mitarbeiterin

Kevin

Harnisch
studentischer Mitarbeiter
Eugenie

Hoffmann
studentische Mitarbeiterin
Verena

Hohm
studentische Mitarbeiterin
Zoe

Huppertz
studentische Mitarbeiterin
Jonathan

Kroker
studentischer Mitarbeiter
Kai

Michael

Lindner
studentischer Mitarbeiter

Marius

Mathiasch
studentischer Mitarbeiter
Dmitrij

Maximov
studentischer Mitarbeiter
Steffen

Mikolajczyk
studentischer Mitarbeiter
Stephanie

Müller
studentische Mitarbeiterin
Sabrina

Otto
studentische Mitarbeiterin
Julia

Pollok
studentische Mitarbeiterin
Falk

Ridder
studentischer Mitarbeiter
Janina

Rohloff
studentische Mitarbeiterin
Sara

Schenk
studentische Mitarbeiterin

Louisa

Trübner
studentische Mitarbeiterin
Kassander

Wachter
studentischer Mitarbeiter
Marlo

Wockenfuß
studentischer Mitarbeiter