Teresa Deckert, Political and Social Studies
03/30/2022
Alumna Teresa Deckert hat an der JMU Political and Social Studies studiert. Aktuell arbeitet sie in der Bundesstiftung Baukultur in Potsdam.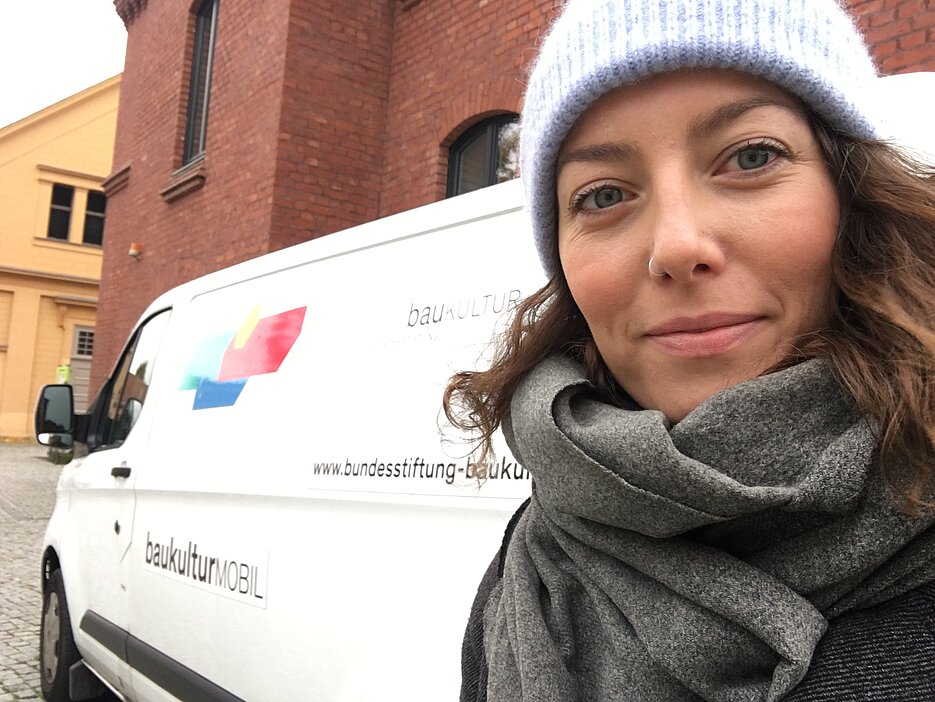 Teresa Deckert im Einsatz für die Stiftung vor dem Baukulturmobil, Foto: Privat
Wie können wir uns Ihren Berufsalltag in der Bundesstiftung Baukultur in Potsdam vorstellen?
Morgens checke ich zunächst meine Mails sowie das Presse-Postfach. Im Anschluss erstelle ich eine To Do-Liste für den Tag, priorisiere die Aufgaben und bespreche mit unserer Volontärin, wer welche Aufgaben (Spektrum reicht von der Beantwortung von Presseanfragen und dem Schreiben von Kolumnen und Texten zur Interview-Koordination und der Erstellung von Pressemitteilungen, Nachberichten und unserem Newsletter, uvm.) übernimmt. Häufig sind wir auch im Rahmen unserer eigenen Veranstaltungen oder auf Messen unterwegs – dort sieht der Arbeitsalltag natürlich anders aus.
Wie haben Sie Ihren neuen Job gefunden?
Über die Homepage der Bundesstiftung Baukultur und deren Stellenausschreibungen.
An welchen Moment aus Ihrer Zeit in Würzburg erinnern Sie sich gerne?
An meinen "1. Tag an der Uni", das Kennenlernen neuer Freund:innen und viele schöne Sommertage mit Eis oder Pizza am Main.
Was ist Ihre liebste Studienerinnerung?
Neben der sehr schönen Zeit in Würzburg auch noch etwas von der Welt zu sehen wie u.a. bei meinem Auslandssemester in Kalifornien sowie meinen Praktika in Berlin und Washington DC.