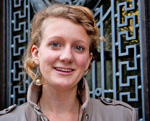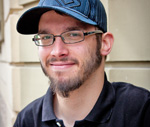 Freud is old hat
Psychology in Würzburg? That means you are at the cutting edge of research every day. Work in small groups and a large academic staff make this possible.
When she first came here, Johanna Müller could hardly believe her eyes. The Psychology student had come from Kiel to study in Würzburg. What really convinced her was when one lecturer spent a whole semester with her and only seven other students to teach her the statistics and analysis software SPSS.
"The teaching staff spend an incredible amount of time with us," Johanna reports. The 22-year-old has just finished her fourth semester and already completed three research practicals. "If you want to get some insight into research while you are still at university, Würzburg is the place to be," Johanna tells us. Johanna has not even spent five minutes with Freud, who preferred his patients on the couch. Robert Kratzer, a Bachelor student, agrees.
Very familiar atmosphere
Würzburg's leading position in Psychology is regularly confirmed by the rankings. Of course, the quality of the teaching is not unrelated to the size of the student intake. Johanna studies together with 55 others in her year, and in Robert's year there are 72, so that there is a very familiar atmosphere. "We all know each other," he says.
Size of the city is perfect
Why did Johanna come to Würzburg? She does not have to consider long: "The size of the city is perfect. Not too big, not too small." Then there is the flair of an old historical town with its Residence, its traditional pubs and bars and the many festivals.
Robert is in a wheelchair and the accessiblity of the buildings clinched it for him. "All in all the buildings are pretty well furnished with ramps and lifts," he says. Würzburg compares well with other West-German universities and if there are a few steps to overcome, other students are always there to help.