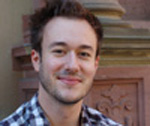 Law rocks!
Law? That was a subject Simon Hembt had given very little thought to. He actually wanted to study music. He has played the guitar since he was six and for years he has been performing in the band "Set Alight". So why is he now to be found in Law lectures?
"I did placements with event managers and saw how much you need to know about law in this business," he says. He also came across Law when he was doing his alternative national service, in a school for the disabled. There, for example, you were not allowed to take photographs of the children without their parents' consent. That awakened Simon's interest and in the end he decided to do a degree in Law.
Jurisprudence instead of rock'n'roll. Simon has not regretted his change of mind for a moment. "People say Law is dry and boring, but that is not the case," he says. Anyone who is interested in politics, the economy and society will get a lot out of this degree programme.
Würzburg: a centre for European Law
Foundation subjects such as History of Law and Philosophy of Law are taught. One particular speciality in Würzburg is European Law. There is a post-graduate course in European Law but it can also be taken in tandem with the conventional Law degree.
Foreign languages classes
Later on, Simon wants to specialise in music and media law. "For that, foreign languages are essential." So he is taking classes in Legal English. The Law departments in Würzburg are proud of the impressive number of foreign language classes they offer. Apart from English, students can take Spanish, Chinese, Russian and other languages. In these courses, students learn about the legal system in the country and the legal terminology.
Time management is important
Studying for a Law degree, learning legal English, giving some 50 concerts a year with his band. Is that not more than enough? "You have to be quite good at time management," he says. "If you keep up to date with your studies and take all the mock exams, you are well-prepared for the real thing."