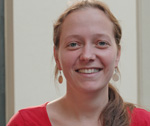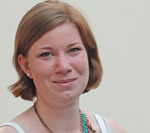 Sights on research
Biomedicine. The graduates of this degree are not medical doctors, but they are well-prepared for a career in medical research. The students get an insight into a wide range of projects in medicine and the natural sciences.
"I really like this mixture," says Conny Unger. The course starts off with a lot of Biology, but Chemistry, Physics and Anatomy are important subjects, too. Later, Biochemistry and various medical subjects are added such as Physiology, Pharmacy and Microbiology.
"We students are introduced to the most varied research groups," says Katharina Heil. There is a team in the Biocenter studying skin cancer, or a working group which is making the movement of individual proteins visible in the cell using fluorescence microscopy.
Working closely with scientists
The students work closely with the scientists in the Rudolf Virchow Center. In this renowned institute for Biomedicine, research is being conducted into proteins which are important for human health and which cause illness when they malfunction.
In their block practicals the students can spend longer periods of time working on individual pieces of research and look in-depth at some of these subjects. These practicals sometimes take place in the vacations.
Time for other things
"But the degree in Biomedicine still leaves time for other things. You just have to make time for yourself," Katharina says. She, for instance, has taken charge of the international section of the Student Council. The international section consists of German and international students. They organise things for the international students such as preparing meals together, going on trips to other cities or visiting wine festivals. "It is nice to meet students of other subjects, and getting to know students from other countries is fun and is always very interesting."